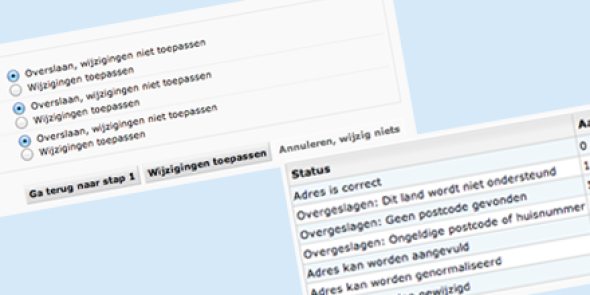 Het geautomatiseerd opschonen van CRM data
Weet je zeker of alle adressen in jullie CRM juist of eenvormig opgeslagen zijn? De kans is groot van niet. Procurios heeft een module waarmee je adressen kunt controleren en opschonen.
In het CRM wordt centraal alle relatie-informatie beheerd, waarbij meerdere mensen tegelijk aan deze data kunnen werken. Het voordeel is dat deze data dus altijd gemakkelijk actueel te houden is voor jou en je collega's.
Verschillende schrijfwijzen
Waarschijnlijk hebben jullie hierin echter wel allen je eigen stijl. "Den Haag", "'s Gravenhage" en "DEN HAAG" worden door elkaar gebruikt en straatnamen als "Adriaen van Ostadelaan" krijgen varianten als "A. van Ostadelaan" of "Adriaen v. Ostadeln".
Onze oplossing
Onze nieuwe module Address Cleanup kan als aanvulling in jullie CRM worden geïnstalleerd. Daarmee kunnen wij, of kun je zelf, adressen opschonen en verrijken.
Van tevoren krijg je te zien welke adressen kunnen worden aangevuld, genormaliseerd of gewijzigd. Dit kan vervolgens geautomatiseerd worden doorgevoerd.
Een mogelijke toepassing kan zijn dat je na een aantal jaar CRM gebruik de opgeslagen data controleert, of dat je na een import van gegevens de adressen aanvult.
Interesse?
Hebt je foutieve adressen in je CRM staan? Wellicht is deze functionaliteit van toegevoegde waarde voor je organisatie. We laten het graag zien! Wil je meer weten over ons platform of deze specifieke functionaliteit? Neem dan even contact met ons op.