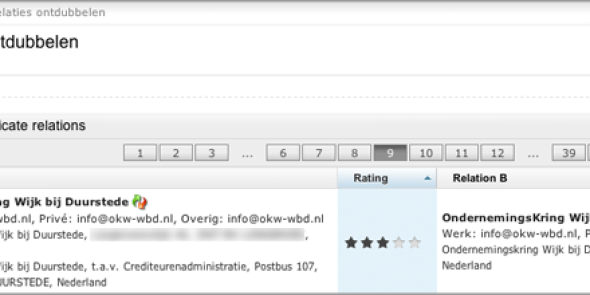 Ontdubbelen van relaties in uw CRM
Procurios heeft een module waarmee relaties in het CRM te ontdubbelen zijn. Daarmee controleer je of er relatieparen zijn met overeenkomende gegevens. Deze kunnen eenvoudig worden samengevoegd.
Vaak vormt het Procurios CRM de spil in een organisatie. Het is de plaats waarin bijvoorbeeld informatie over leden, nieuwsbriefontvangers, klanten en medewerkers wordt bijgehouden. Denk hierbij aan namen, functies, NAW gegevens, contactmomenten, gekoppelde documenten, aangeschafte webshop-producten, etc.
Dubbele gegevens
De kracht van een centraal online geïntegreerd CRM is dat alle informatie altijd actueel is en op één plaats terug te vinden. Het risico is echter dat mensen gegevens toevoegen die al bestaan. Zo kan een medewerker een relatie toevoegen, terwijl die persoon zichzelf al had ingeschreven op een nieuwsbrief.
Ontdubbelen
De relatie-ontdubbelmodule zoekt periodiek naar relaties die eigenlijk dezelfde zijn. Dit gebeurt op basis van gegevens als telefoonnummers, adressen en e-mailadressen.
De CRM- of relatiebeheerder kan mogelijke dubbele relaties vervolgens bekijken en desgewenst samenvoegen. Deze functionaliteit voorkomt een vervuild relatiebestand en dubbele data in jullie CRM.

Wellicht is deze functionaliteit ook van toegevoegde waarde voor jullie organisatie. We laten het graag zien! Wil je meer weten over ons platform of deze specifieke functionaliteit? Neem dan even contact met ons op.
/

Members

for associations

Your association offers something invaluable for your members: bringing people closer together! By gathering all your data into the Procurios platform, /Members helps you to get the most out of it.

More about /Members Schedule a demo