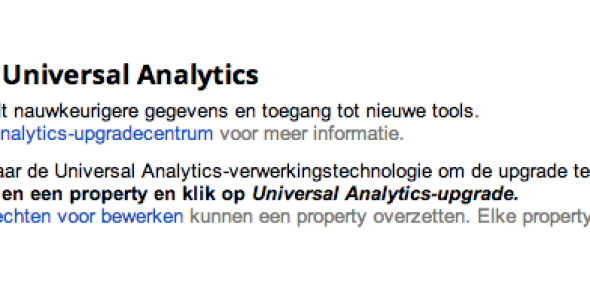 Upgraden naar Universal Analytics is nu mogelijk
In het voorjaar van 2013 heeft Google haar nieuwe versie aangekondigd van Google Analytics, namelijk Universal Analytics. Tot voor kort was het niet mogelijk om je bestaande property's te updaten naar Universal Analytics en moest je nieuwe aanmaken wilde je er gebruik van maken; daar is nu verandering in gekomen.
Wie onlangs nog heeft ingelogd in de beheermodule van Google Analytics zal het misschien hebben opgemerkt: de banner bovenaan waarin melding wordt gemaakt van de nieuwe upgrade mogelijkheid naar Universal Analytics (UA).
Ondanks dat UA nog in bèta staat, raadt Google bestaande klanten toch al aan om te upgraden naar UA. Ze hebben onlangs het "Univeral Analytics Upgrade Center" gelanceerd waarin gebruikers alle info terugvinden m.b.t. de upgrade procedure.
Ik beantwoord hieronder de 3 meest gestelde vragen omtrent dit proces:
Wat is de impact als ik upgrade?
Functioneel gezien krijgt u er enkel functionaliteiten bij.
Op technisch gebied verandert er wel e.e.a. U moet namelijk aangepaste tracking code gebruiken. Ons advies is om deze te implementeren via Google Tag Manager. (zie dit artikel in onze kennisbank).
Wie wordt aangeraden om nu te upgraden?
Alle gebruikers, behalve diegene die één of meerdere van volgende producten gebruiken:

Remarketing

Google Display Network Impression Reporting

DoubleClick Campaign Manager Reporting

Google Analytics Demographics and Interests Reports

Tegen wanneer moet ik upgraden?
Google heeft nog geen concrete datum opgegeven waarop bestaande Analytics gebruikers over moeten zijn op UA, maar ze hebben al wel aangegeven dat dit uiterlijk 2 jaar zal zijn vanaf het moment dat UA uit bèta is. Mijn vermoeden is dat UA ten laatste Q1 2014 uit de bèta fase zal komen.
U kan alle info raadplegen in het UA Upgrade Center van Google: https://developers.google.com/analytics/devguides/collection/upgrade/?hl=nl
Hebt u vragen over hoe u Google (Univerasal) Analytics moet inzetten, stel uw vraag hieronder of neem contact op met onze servicedesk voor persoonlijk advies. We helpen u graag het maximale uit uw oplossing te halen.