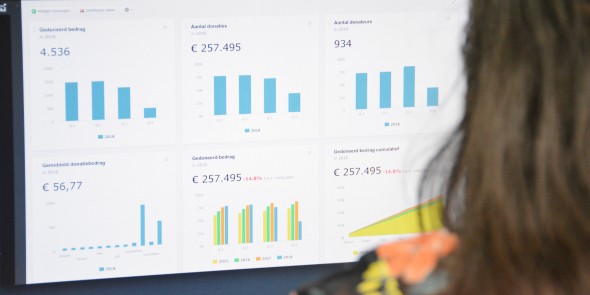 New on the Procurios Platform: Insights
The development of Insights started with the question: How do you gain insight into the outliers, trends or low points in your current campaign? In other words: what information does our client need to make decisions about it? In collaboration with a few of our customers, we have therefore worked on something new: the Insights add-on!
What is Insights?
Our fundraising customers are already familiar with it; the product Engagement is standard in the /Fundraising solution. With Engagement you keep track of the actions that fall within the campaigns that you set up. It offers the possibility to monitor your campaigns and promotions from one central point.
Do you use /Fundraising and our Engagement product? Then Insights as an add-on is kind of essential!
The Insights add-on is an addition to Engagement. With the Insights charts you also keep track of the progress of those campaigns and promotions. It makes it possible to draw important, company-wide conclusions from your campaigns and make decisions: which actions do we continue to use and which do not?
In addition, Insights makes it possible to display all this information at once. Think of a presentation, report or as extra support when writing a plan for future actions.
When can I use Insights properly?
We take organization A as an example.
Organization A starts a campaign against the deforestation of the rainforest and at the same time has a campaign running for better bicycle facilities within the city. For both campaigns they carry out different campaigns to raise more money.
After a while the fundraiser of organization A wants to see which of those campaigns were successful or not. A simple example: with the mailing against the deforestation of the rainforest, a link to a landing page has been sent. Three variants were made of that landing page.
From the list of donations that subsequently comes in, it is difficult to really retrieve the information that you can use, and that you can learn from. For example, which of those three landing pages collect more donations and which do not?
On the Insights dashboard you see a number of different graphs side by side that help you draw conclusions and prepare you for future promotions and campaigns.
Draw conclusions with Insights
On the Insights dashboard you see a number of different graphs side by side that help you draw conclusions and prepare you for future promotions and campaigns.
According to the graphs, the donation amount for both campaigns has increased on specific landing pages. The first conclusion that you can draw is that you no longer need to use the other landing pages.
In addition, you see that the increase in the number of donations with the rainforest campaign is different than with the bicycle campaign. In the rainforest campaign, the group of donors has become larger, but smaller amounts are being given.
With the bicycle campaign you can see that the number of donors has remained the same, but that the donation amounts have increased considerably.
With the help of Insights you can draw the following conclusions:
With the rainforest campaign you can now focus on a broader audience that may be less engaged but can be warmed up.
With the bicycle campaign you can better focus on persuading your existing target group to make higher donations instead of focusing on a new target group.
Answer with Insights
Insights came about through a collaboration between Milieudefensie, foodwatch, VUmc, IVN, Groenlinks and Procurios based on the question: as a fundraiser I want to know what I am doing, what works and what doesn't and what information do I need to make a decision?
And if we say so ourselves: with the product Engagement and the add-on Insights, it becomes incredibly easy to answer that!
The Engagement product is included as standard in our solution for fundraisers. So are you using /Fundraising or will you do so soon? Then don't forget to set up and deploy Engagement.
Questions about how to use Engagement? Then contact our Service Team.
Have you become enthusiastic but not a fundraiser?
No worries. The Engagement product and the Insights add-on can also be used outside the fundraising sector. View our other options /Members and /Universal here.