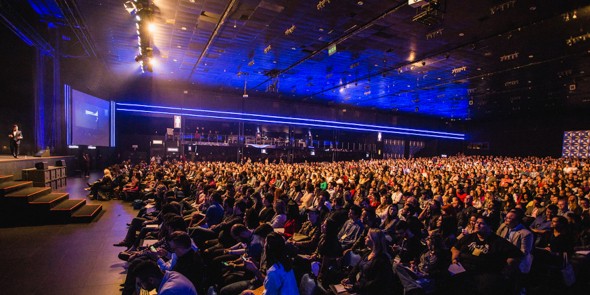 Five Key Success Factors for Online Conferences
Producing a winning online event isn't just about streaming a series of talks on a webinar platform. If you implement it correctly, the results will be outstanding.
Turning a physical event to an online event is not just copy pasting everything to the online world. We learned this during the nineties when organisations started to create their first websites. Back then, the number one mistake was to copy the existing company brochure (1:1) to the website. Although most companies won't make this same mistake again, we should prevent ourselves from doing so with our events.
Before we get started, it's important to understand why people attend physical (offline) events. The most important reasons are:
inspiring content
networking with peers
the great experience that visitors encounter during such an event
And, although the exact definition of the great experience depends on who you're talking to, we can certainly state that the outcome should match (or preferably exceed) their expectations. So, we need to make sure that the end result should exceed the expectations the visitors.
There are five main ingredients that are mandatory when you turn your physical event into a successful online version of that event.
1) Content
It's probably quite obvious, but the quality of the content should be excellent. Depending on the type of event you are organising, the content will be classified as inspirational or educational.
At an online event, it is quite obvious that video will be the primary content type. But use this opportunity to rethink and repurpose your content into different formats.
Some possibilities:
Graphics: prepare graphics and graphic templates upfront around the different topics of your event
Transcripts: produce transcripts of the different talks and enrich them with graphics to give them more body and to improve readability. For talks which are pre-recorded, you can do this upfront. For real-time talks you can prepare the transcript by asking the speaker for his preparation and maybe even a recording of a rehearsal.
Podcasts: perfect to use in pre and post event communication and to bring some variety in the content mix. Podcasts in combination with some stunning music are also a suitable medium to deploy when you offer people an event break in the form of a lunch or a workout session to regain some energy
Blog posts / articles: cross-link existing and newly created content to support the event specific content
Session resources: make slide decks available for download, offer images with quotes so people can easily share those on the social media network of their choice, add hyperlinks to the session page when a speaker mentions one, and so on
Don't forget to make use of the possibility to offer exclusive access to the event content after the event took place. This is another example of the advantages of an online events for the participants; they can revisit helpful sessions several days or even months down the road.
2) Networking
Since networking is an essential part of a physical event, it's important to also invest in networking facilities for your online event. While networking probably seems more difficult online than it is at a physical event, it also creates new opportunities.
Online networking is probably new for most of the participants, so invest in creating a networking onboarding guide filled with practical instructions, examples and tips and tricks for a successful result.
Guide participants through a profile setup to make sure that their profile is filled with a minimum of required information (like a profile picture, their interests, job role and company they work for). This information can be used by AI-matching techniques to propose potentially interesting people to connect with.
Encourage participants to engage in group conversations during and after sessions. Be sure to offer them a community of asynchronous information exchange at a time of their convenience.
And just like you do at a physical event, offer participants one or more dedicated time slots for networking opportunities. Try to facilitate the exchange of virtual business cards too, so that they can keep in touch with each other after the event took place.
3) Participant Engagement
Organising an online event also has a big advantage in terms of the possibilities of measuring participant engagement. While there are several tools available to do this during a physical event, it's far more complex, expensive and inaccurate during the online version.
Measuring participant engagement enables us to act on both the very active and inactive participants in an appropriate way. You may think of stimulating inactive participants or rewarding the active ones.
The collected data can be used during and after the event to offer personalised content to a participant, act on people who weren't really engaged or go after potential leads who demonstrated a high level of engagement.
Data is key. The sky's the limit.
4) Creative event production
We talked about content, networking and participant engagement. Although these elements are all certainly important, they should be brought together to make sure that you get an extraordinary event. It's the creative production that leads to the unique experiences and feelings your attendees will have and makes the event truly memorable.
The creative production mainly focuses on experience design: what do your visitors feel, see and think? This is the part that makes attending an event so exciting. To achieve a good production that will actually exceed the expectations of your guests, you need a well-defined concept. A strong concept seeks to exploit the zone of uncertainty which exists between curiosity and confusion. It excites the sense of fantasy of your visitors. Tension and excitement are build up gradually to ensure a lasting effect.
Designing a creative event concept that will lead to a breathtaking production requires experience. If you don't have that experience, get in touch with a consultant or an agency that does have the experience.
5) Event platform
You have content, thought about networking and participant engagement and you've brought it all together in a creative concept. Great job! But how do you bring everything to your audience? That's where the event platform steps in.
An event platform hosts and facilitates the content delivery, visitor interaction and engagement. You can compare it with a physical venue. Ideally your event platform is fully integrated with the administrative and marketing tools you are using already within your organisation. To make sure that all data is collected in a single place and that visitors can use their known credentials to access the event website.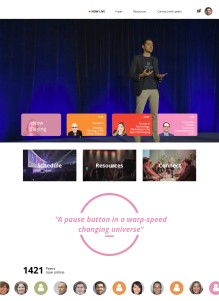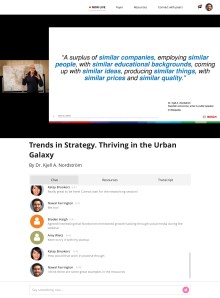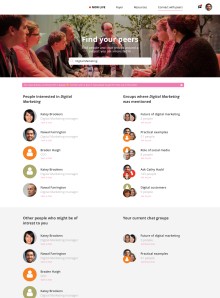 When you select a platform, create a list of requirements to make sure the selected platform fits your needs. Some examples:
Can the branding be adapted to match your organisations brand guide?
Do you have all flexibility you need to deliver your content?
Are the right tools available to facilitate networking?
Does the provider support you before, during and after the event?
An online event requires 100% guaranteed uptime of the applications that's being used. While it is quite impossible for anyone to offer a guarantee like this, there are several precautions one can take, to strive towards this number. It's important that you select a partner who has proven the capability to do so. At Procurios, providing our customers with a trustworthy solution is one of our highest priorities.
Here's a list of items you should mention when talking to a possible provider:
Do they have relevant references that are comparable with your situation and that you can get in touch with?
Is the application stress-tested? If so, to what volume of simultaneous visitors?
Is there a monitoring team available during the event that can be contacted?
Are there procedures in places in case of unforeseen circumstances? If so, what are those?
How secure is the application? Ask for their security protocol
Conclusion
Don't rush into online events without taking these five essential ingredients into account:
Content
Networking
Participant engagement
Creative event production
Event platform
If you need help with online events or you want to exchange thoughts? Don't hesitate to get in touch with me.
The first online event in Belgium
Customer case of the UBA Trends Day
How UBA converted their physical event into a stunning online event for 1.500 visitors making it one of the best editions of the UBA Trends Day in history using the Procurios Platform.
Read the case