Procurios groeit met je mee!
Het Procurios Platform is ontzettend uitgebreid! Voor zowel kleinere als grotere organisaties zijn onze standaard producten een schot in de roos!
Op maat van elke vereniging
We vertrekken van onze standaard oplossing
Verhoog je leden loyaliteit met doelgerichte marketing
Verhoog de loyaliteit
Met je data centraal op één plek, verkrijg je inzichten die je nooit voor ogen hield. We leren je hoe je de loyaliteit en betrokkenheid omhoog helpt!
Marketing en communicatie
Onze communicatie mogelijkheden zijn op maat van leden gemaakt. Maak een sprong voorwaarts en ga persoonlijker en kwalitatiever in gesprek met je leden.
Voor iedereen
Het Procurios Platform is voor iedereen! Doorwinterde medewerkers of nieuwe vrijwilligers leren door de gebruiksvriendelijke interface het Platform snel kennen!
All your data in one place
Member data is often scattered across several platforms.That is not only unsafe, but incredibly impractical for e.g. financial and/or membership administration, communication and marketing. With the Procurios Platform all your data is in one place. The CRM communicates seamlessly with other products, offering you accurate data, regardless of the task at hand.
Flexible relation card
Multiple relation types
Filtering and segmenting
Link to finance
Want to know more?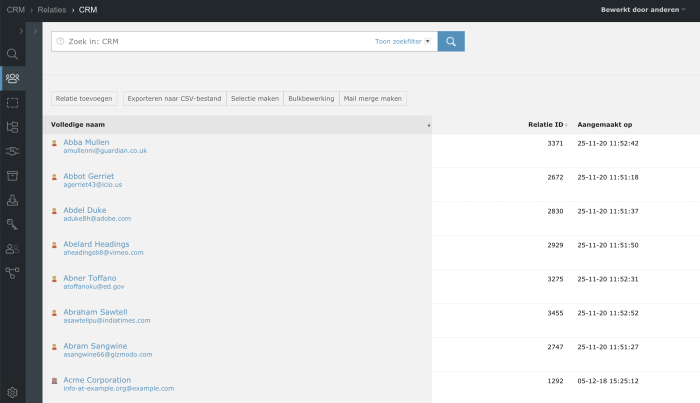 Multiple subscription types
Auto renew or convert
Membership status
Company Subscription
Historic memberships
Discover it yourself!
Automate where it matters
The Procurios Platform offers several possibilities to automate time consuming tasks. From processing bank transactions to sending digital newsletters: save your team time, energy and stress!
Apps that communicate
Automate where it matters
Maximum control, minimal effort
Want to know more?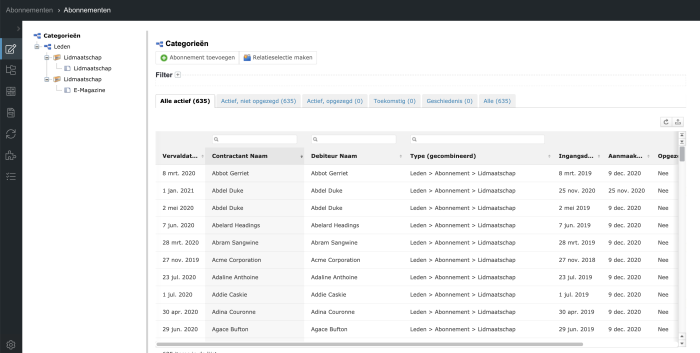 Ga ook voor engagement!
Wil je ook aan de slag met je verenigingsdata? Lees het antwoord op de 4 vragen op weg naar meer engagement tussen leden en verenigingen.
Download nu gratis de gids >>>
10 reasons to choose for Procurios
You've probably seen hundreds of suppliers on your search for the right CRM software that fits your association or foundation. They're all different, but what really separates them? To help you answer that question, we'll share 10 defining characteristics of Procurios and our Platform!
Feature vergelijking

Features

Included as standard?

No hassle

Everything within Procurios is meticulously intertwined. No broken API's, no limitations. All our products work in perfect harmony, reducing your workload.

Aanwezig

For associations, by associations

Our product development is almost entirely steered by customer demands. Associations, just like yours. As a result, everything we make is designed for associations. Not just our product, but also our knowledge and expertise.

Aanwezig

A partner that doesn't just sit around

We see every relation as a long-term partnership. We enjoy putting our heads together and we're not afraid to say 'no'. We don't stop until you're fully satisfied and your organisation is ready to skyrocket.

Aanwezig

Fully cloud based

Anywhere in the world, from any location at any given moment. All you need is an internet connection.

Aanwezig

GDPR compliant

We continuously make sure that your platform is GDPR compliant. That means you don't have to worry about cookies or complex guidelines. As a bonus, all your data is safely stored in Europe.

Aanwezig

Stable and reliable: 99% uptime guaranteed

The Procurios Platform has been around for more than 20 years, counts more than 2000 customers and we create it all by ourselves. That means you can expect a stable, fully reliable platform that keeps improving.

Aanwezig

User friendly for everyone

You don't need to be a computer wizard to work with our platform. Our platform was designed with every user type in mind; (in)experienced employees and volunteers of all ages

Aanwezig

Build Engagement

Our Platform makes your organisation future proof. With innovative insights and smart applications, we teach you how to build on member engagement.

Aanwezig

Direct contact

Our service teams in Belgium and the Netherlands are always ready for you. You can choose your own level of support.

Aanwezig

Transparent pricing and add-ons

You can always find our pricing online. Just to keep things transparent. Additionally, you can choose which add-ons you add to your platform.

Aanwezig
Sign up to our newsletter