/

Universal

No matter what story you're telling, nothing is going to stop you with our powerful all-in-one platform
Everything you need in one platform
Choose the products you need
Discover and develop together
Schakel jij ook een versnelling hoger?
Je Procurios Platform is in gebruik genomen. Je noden veranderen en de markt doet dat ook. Doe daarom beroep op de Procurios Consultancy Add-on en krijg de flexibiliteit die jouw organisatie nodig heeft. Zijn er functionaliteiten die je wenst toe te voegen? Wil je een aanpassing aan de website? Heeft je nieuwe collega nood aan een Procurios training? Of wil je meer steunen op de hulp van jouw persoonlijke consultant? Met de Consultancy Add-on kan het.
Create an insight into your donors
Discover who your donors are. Work on your goals together, from the heart of your organisation: the CRM
Your donors, campaings and communication in one place
Personally communicate and get an immediate insight into the gift behavior of your donors.
Let the world know what you stand for
Allow everybody to discover your story through your website, your blogs and emails. All from just one platform.
Progress Review
Elke kwartaal doen we een review en bekijken we samen hoe performant de website is en waar we kunnen verbeteren. Zijn er meer bounces dan vorig kwartaal? Sijpelt er valse data binnen? We brengen het in kaart en sturen bij waar nodig. We bekijken bepaalde metrieken om de gezondheid van jullie Procurios oplossing te garanderen. Op die manier blijft de data kwalitatief en kun je doelgericht actie ondernemen.
Inzicht in jouw website
Inzicht in jouw Platform
Toekomst duidelijk in kaart
Afgestemd op de prioriteiten van jouw organisatie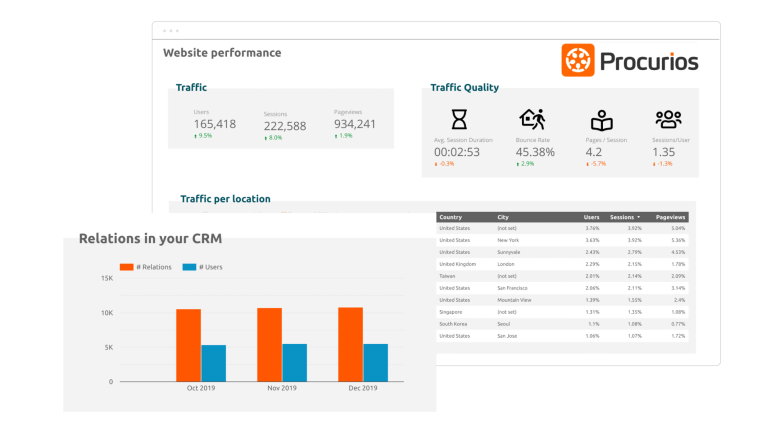 Procurios /Fundraising vs Espadon

:
Are you ready for all-in-one?
Manage your administration, campaigns and communication from one place. Get the maximum out of your donations and discover how a digital transformation is possible for your organisation!
Feature vergelijking

Features

4 uren
Espadon

Donations

Manage campaigns, donors and donations

Aanwezig

Aanwezig

Bank Transactions

Create direct debit batches and process bank transactions

Aanwezig

Aanwezig

Relation management (CRM)

Manage your relations and their data

Aanwezig

Aanwezig

Website

Create and manage one or more websites from the CMS: content management system

Aanwezig

Niet aanwezig

Mailings

Design personalised mailings and send them to a predefined target audience from your CRM

Aanwezig

Niet aanwezig

Meetings

Organise events and manage communication to a specific target audience. Maintain a clear overview of all your meetings

Aanwezig

Niet aanwezig

Library

Manage and save all your files

Aanwezig

Niet aanwezig

Community

Ask questions, share knowledge and discuss, accessible and direct contact with your audience.

Aanwezig

Niet aanwezig

Free updates

The platform stays up to date, thanks to regular updates

Aanwezig

Niet aanwezig

Cloud software

Access the platform from anywhere at any time

Aanwezig

Niet aanwezig
Sounds good, right?
Visit one of our demos and discover how you could generate tax certificates in just a couple of minutes!
Plan a demo!
Contact us