Connect your audience with an exclusive online Community
Connect your members, start a conversation with your audience or offer companions a safe environment. An online Community offers plenty of possibilities and advantages compared to social media platforms.
A safe, exclusive platform
You're in control
Available as Add-on or in /Community
Functionalities and possibilites
Safe and private
Offer your members a safe haven to start conversations, without uninvited guests.
Social intranet or extranet
Build on a social intranet or extranet and create your own community. Allow members and coworkers to post, discuss, like, share and follow!
Mobile app
On the road, or without a computer nearby? With the Communities App, your community is always closeby.
Timeline
A channel or community per theme
Mobile app
Filter
Channel info and rules
Get started
Participant profile
Channel moderator
Card or list view
E-mail notifications
Community to your liking
Discover it yourself
Mobile app
Members can start a conversation, share knowledge or an experience at any given time with the Communities App. You apply your own branding to the app, so that your Community looks and feels familiar to members.
Always up to date with push notifications
Connect your smartwatch
In your own branding
iOS and Android
Read more about the app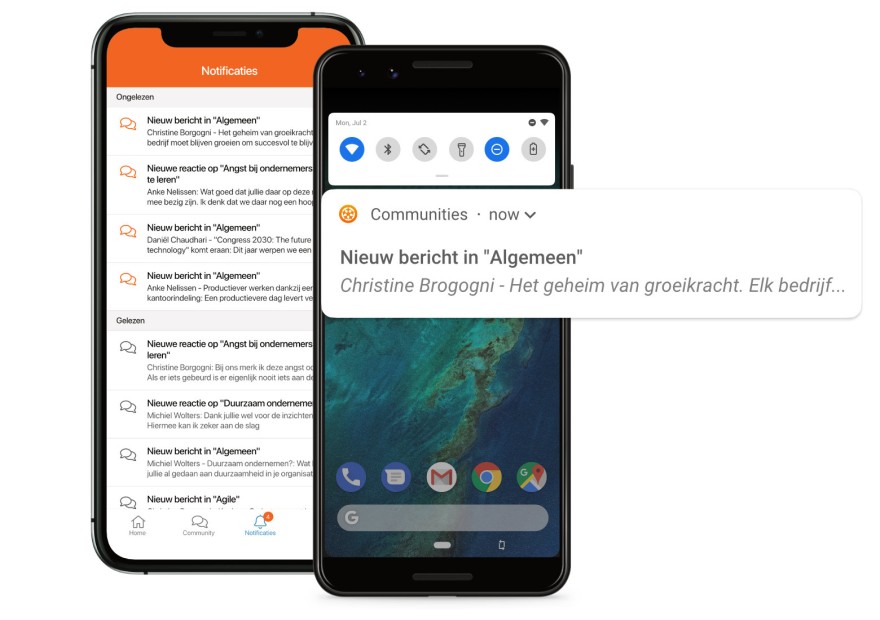 Sign up to our newsletter