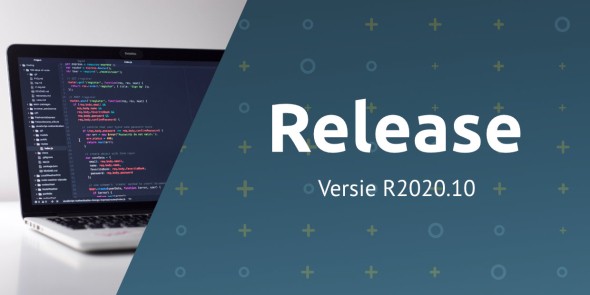 Release 2020.10
Starting from Wednesday September 16th 2020, every customer of our Procurios Platform will be using release 2020.10. In this blog you can find an overview of the changes. Would you like to read more about our release process? Have a look on our release page.
CRM: link relations based on email address
Previously there were several possibilities to link relations to each other based on their email address. E.g. linking the staff of Procurios automatically to Procurios, based on te '@procurios.com' in their email address.
To simplify the management of this feature, we've decided to make a single product out of it; Customer Email Domain. This product replaces the other possibilities after installation and can be configured under the settings page in the CRM.
CRM: managing relation free fields through CRM settings
You can now manage free fields directly under the 'Settings' of the CRM. You no longer need to work in the Forms.

Finance: bank transaction details on invoices
In our previous release, we've extended the information that is shown on an invoice. After feedback from several customers missing transaction details, we've added a detailed view for transactions that are linked to an invoice.

CRM: manage phone types under 'Typer'
Another change to the CRM settings is the option to manage phone types. You can manage these types under the general 'Type' settings.

Donations: pre notification per action
Under the settings of the product Donations of the /Fundraising solution, you were already able to send out pre notifications for specific funds. In addition to this feature, you can now set a pre notification per specific action too.

Mailings: share mailings with WhatsApp
It's already possible to share mailings through Twitter, Facebook or LinkedIn. From now on, you can add a token (##share-on-whatsapp-url##) to your mailing to make it shareable through WhatsApp.
Memberships: more options to determine price calculations
We've introduced new options to the price calculations of a subscription in our previous release. In that version, we assumed that there was always a linked relation available with the corresponding amount. But that is not always the case.
To counter that, you can now indicate what should happen if this information is lacking. You can configure per field if there should be an error message when the value is missing or if there should be a fall back to a default value.
If there are no changes to existing price calculations, these will automatically generate the error message as before.
Finance: manually changing invoices to 'Paid' is no longer possible
It's no longer possible to manually change the payment status of an invoice to paid. For changing the payment status the platform reads bank statements, finds an online payment or direct debit or is an invoice credited.
We enforce this to ensure that every open invoice has a booking, so we can work to a more auditable invoicing that works better with your bookkeeping.
Customers that are really used to manually changing the payment status of the invoices can talk to us about it. Together we'll find a fitting solution. Experience has told us that a small change in your process can often be enough to phase out these kinds of work flows.
Mailings: improved use of time zones in mailings
When scheduling a mailing you can use the time zone of the recipient. The following improvements have been made;
Contact moments based on planned time and place of the time of sending the mailing
Contact moments contain information about the use of time zones
Mailing statistics now include the time of sending in our time zone and an indication of the used timezone.
Donations: manually transfer as an option in the donation form
The option 'Bank transfer' has been added as a payment method in an online donation form. This allows possible agreements to be captured of the donor that doesn't want or can use direct debit.