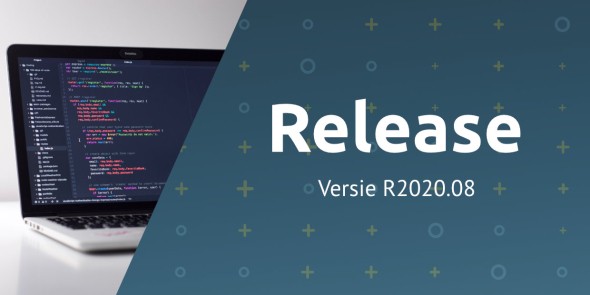 Release 2020.08
Starting from Wednesday July 22nd 2020, every customer of our Procurios Platform will be using release 2020.08. In this blog you can find an overview of the changes. Would you like to read more about our release process? Have a look on our release page.
Mailings: Tokens for profile forms
Personalised links
In Mailings there is always a default unsubscribe link available. You can link through so called rules to different profile forms.
We've made further improvements to this functionality, so that tokens can be created that are linked to one or more profile forms. These tokens can be personalized links. When a receiver clicks on it, they can view and modify their profile data. Depending on the chosen Relation Collection (list, group or selection), you can determine which profile form is shown.
The functionality can still function as an unsubscribe link of the newsletter, but also to enrich your CRM data. This makes this feature very interesting for fundraisers and marketeers!
Read more on how to configure and use tokens.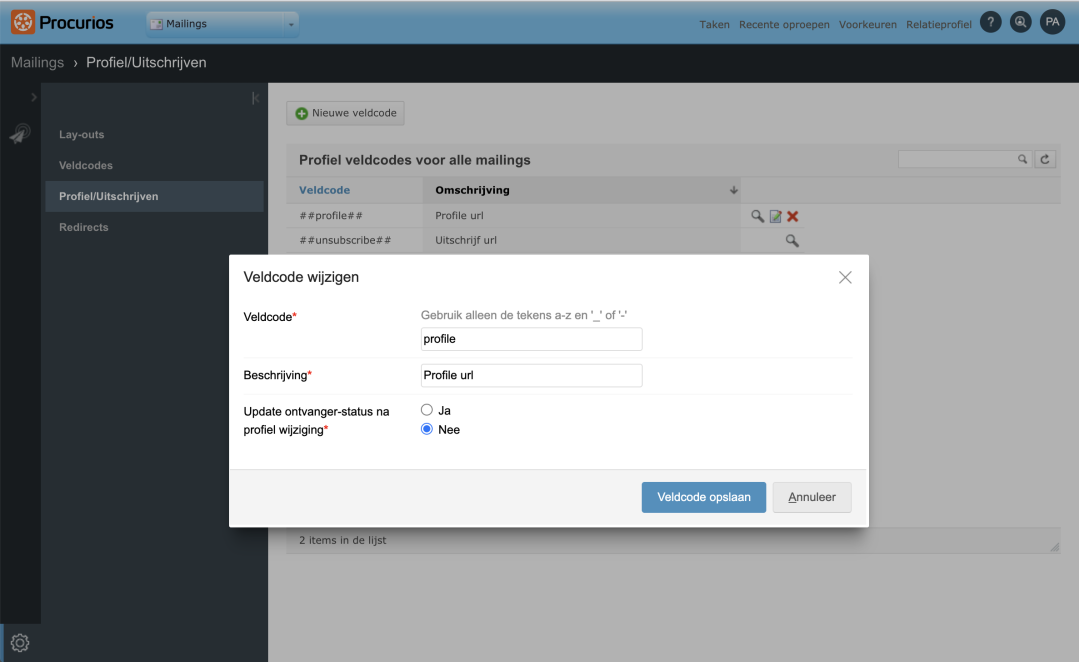 Finance: Payment interface update
The Payments interface has been updated to our current interface and has received the following improvements:
New lists with a fixed layout. Only relevant column are shown.
The filter has been moved to the filter-panel on your right hand side.
The details=page of a payment shows all the information of the payment
Managing the payment methods has been moved to 'Settings' at the button left of your page.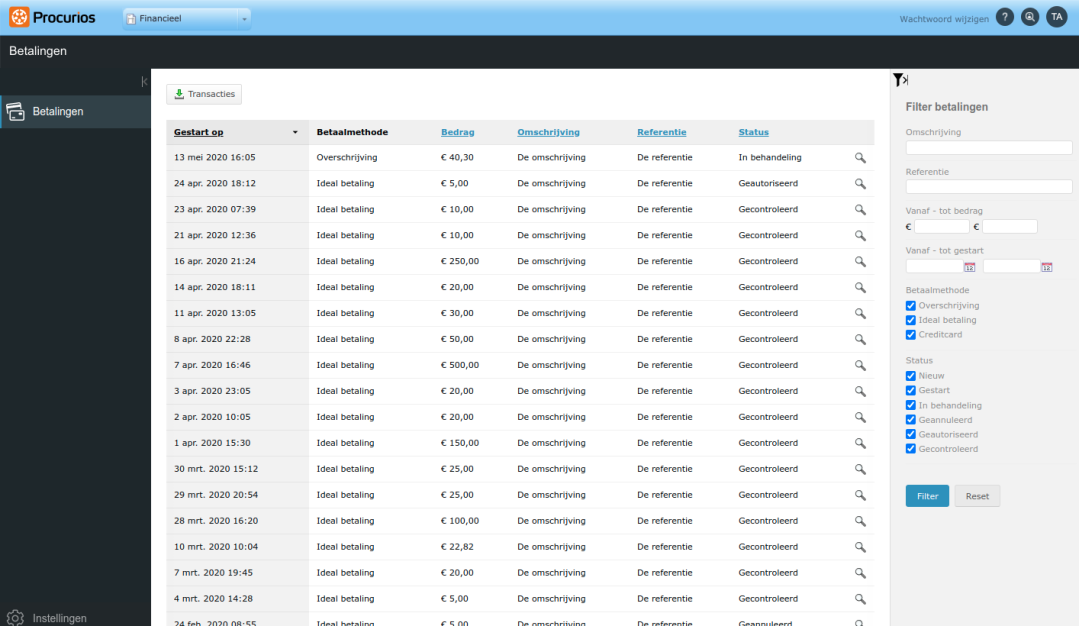 Fundraising: Improvements on tax certificates (BE)
To make sure that generating tax certificates is less prone to mistakes, we've added the following improvements.
Generating fiches
Fiches can be regenerated for a period if there hasn't been made a batch for it. That ensures that changes can still be made, e.g. when a donation during that period needs to be added to a person.
Previously, fiches could only be made once for the combination 'year' and 'legal entity'.
Preview / Export checkup
Before a batch is created and the tax certificates are generated, you can do an export checkup. This allows you to review the data that will eventually end up in your batch. The export is in a CSV-format.
Warning when generating batches
And finally, we've added a warning when creating batches. This stresses that generating a batch is final and irreversible.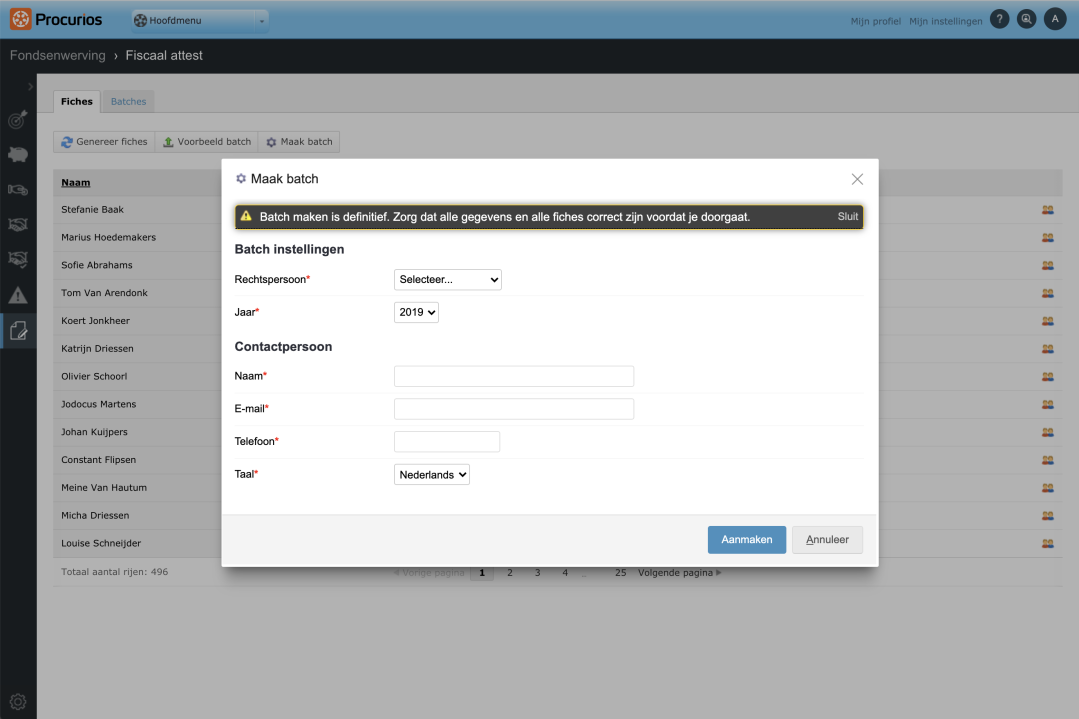 CRM: Creating contact moments from Outlook
Procurios for Outlook
There is a new Procurios add-in for Microsoft Outlook. This add-in allows you to create a contact moment from an email into Procurios. This add-in works both on your desktop and browser version of Outlook.
Why an Outlook add-in?
Recently, we've already rolled out the Procurios Browser Extension for Gmail, which allows you to save emails as contact moments in your Platform. Due to high demand, we've created the possibility for Outlook users too!
How do I install it?
You can instantly download the add-in in the Microsoft store. But also through Outlook itself by clicking on the 'Get Add-ins' button and searching for 'Procurios'.
Which versions are supported?
Our add-in works with the following versions of Outlook:
Outlook 2013 or later on Windows
Outlook 2016 or later on Windows
Outlook 2016 or later on Mac
Outlook on the web
Only for Microsoft mailboxes
The Outlook add-in only works for Microsoft mailboxes, e.g. exchange or live accounts. When using Outlook with a non-Microsoft mailbox , the add-in is not supported by Microsoft.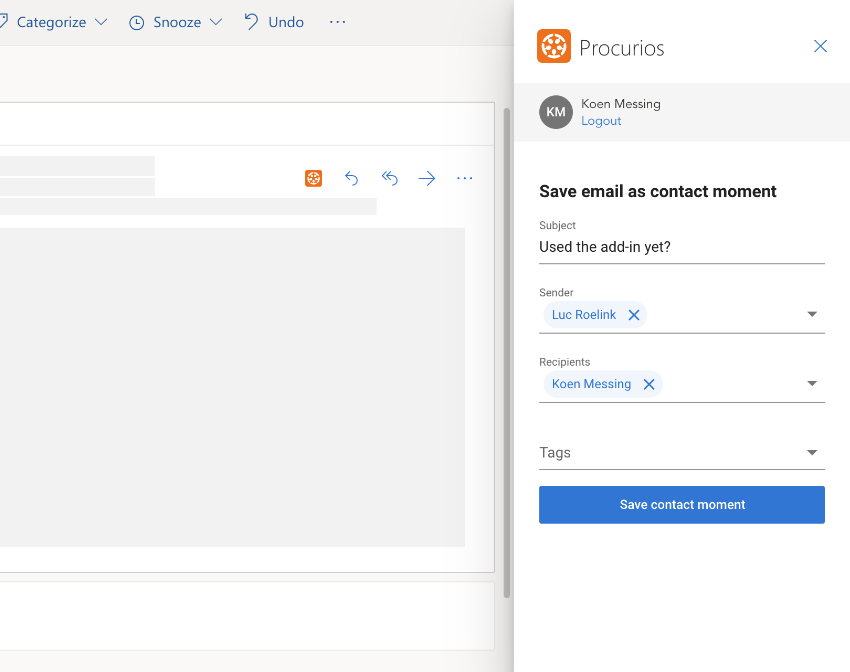 CMS: Multilingual polls
In order to support international content, we've made polls within Forms&Suverys multilingual. This means that questions, answers and the different texts can be offered in multiple languages. These languages correspond to the set languages on your website. You no longer need to create separate polls per language.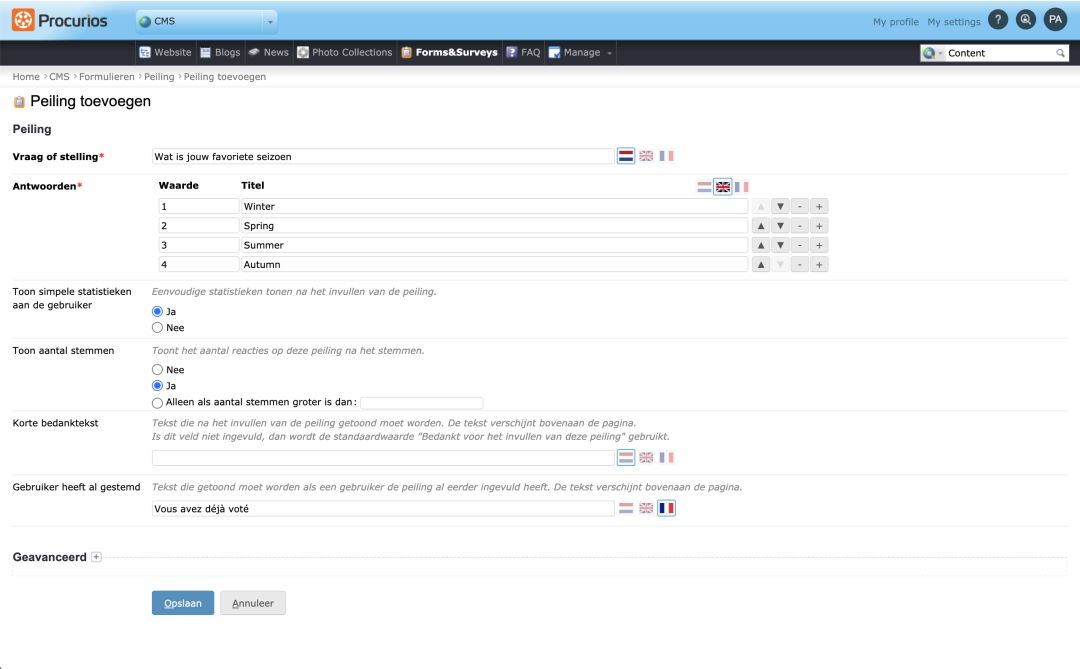 Additional changes
New error page: By improving our infrastructure, we can now show a more relevant error page. We've also improved the design.
Sitemap of news items: For better indexing news items, a sitemap is generated every night.