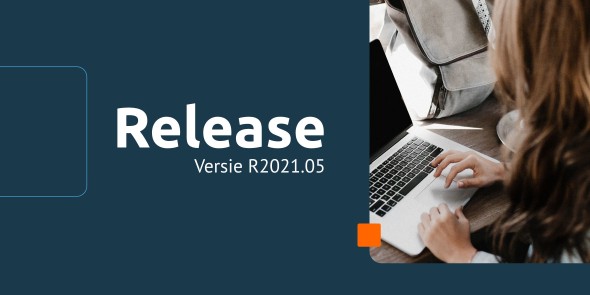 Release 2021.05
In the course of Wednesday April 28th, every customer on the production version of our Platform, will use release 2021.05. You can find an overview of the changes in this blog. For more information on the different versions of our platform, take a look at the release page.
Meetings & Events: ticket text in emails
Tickets can now have a text added to them, intended for use in emails. These texts can for example be used for confirmation or reminder emails. Each type of ticket can have an email added to it. This way, it is possible to adjust the content of your emails based on the chosen ticket.
How does this work in practice? Suppose you organize a meeting with different tickets, for example ticket A for the day program and ticket B for just the networking opportunity that takes place at the end of the day. You want to send both types of ticket holders an email when they register, but information for one is not relevant for the other and vice versa. With this function, the information can be set by ticket type. For example, the person who attends the entire day will get information about the program, but the person who only comes to the networking opportunity will not.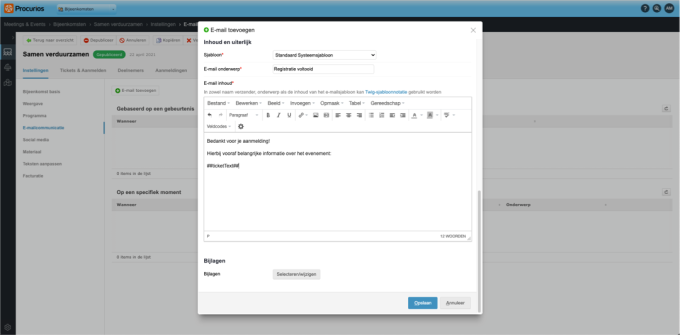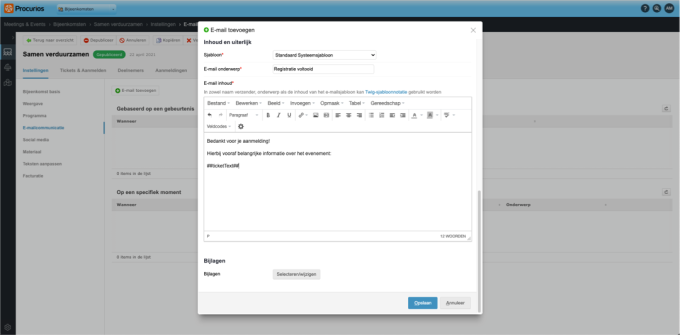 Platform: search suggestions
In the search function you now get search suggestions for searching on the exact text or separate words. For example, when you search for media forum meeting overview, you get a suggestion to search on "media forum meeting overview" (with quotes). It also works the other way around. If you use quotes somewhere in the middle of your search you will not get a suggestion.
You can activate this functionality in the search engine settings.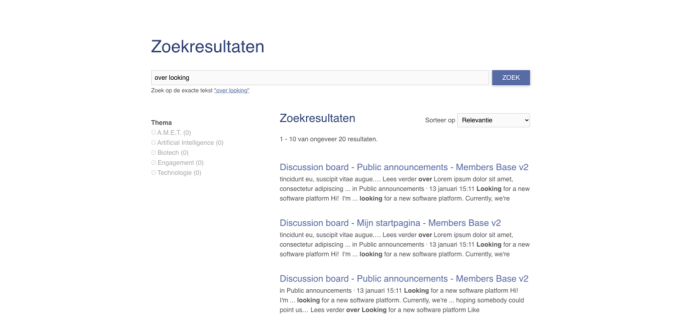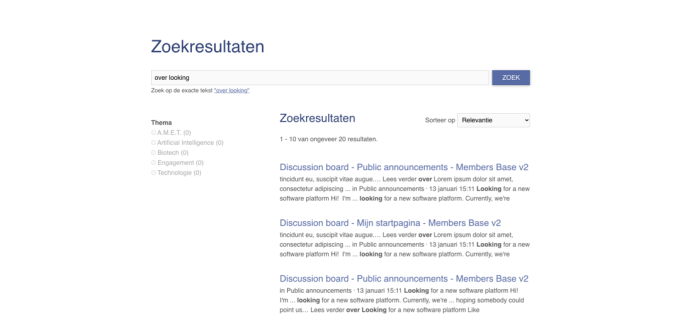 Platform: search engine filters - number of results
If you used tag-based filters in the search engine, previously the numbers associated with the filters could not match the number of search results you get when you enable the filter.
An example:
The filter "Media" indicates it has 30 results. You click it you will see 73 results. That's because other tags like 'Media Forum' and 'Social media' are also found. This is now made more specific.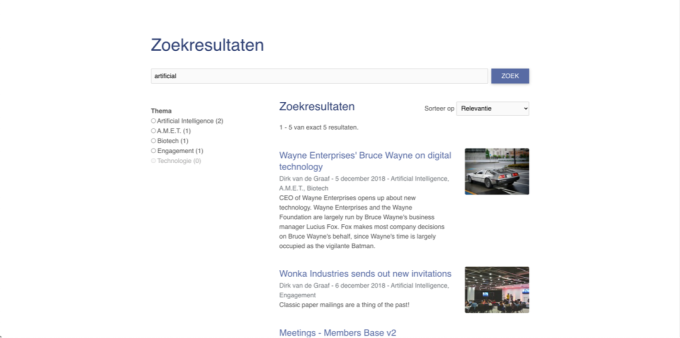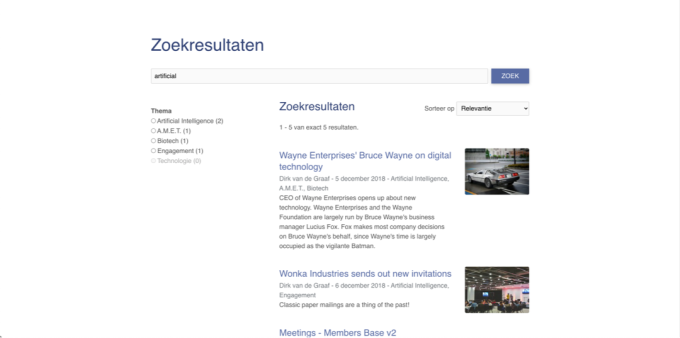 Forms & Surveys: export form field reaction values
The completed values of a field from survey forms can now be downloaded. This can come in handy if you regularly send surveys, for example for feedback, and want to see how answers change over time. Those who wish to export these fields can do so via CMS > Forms > Advanced > Manage Form Fields.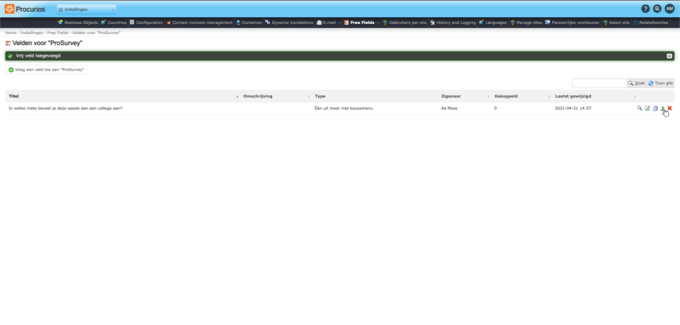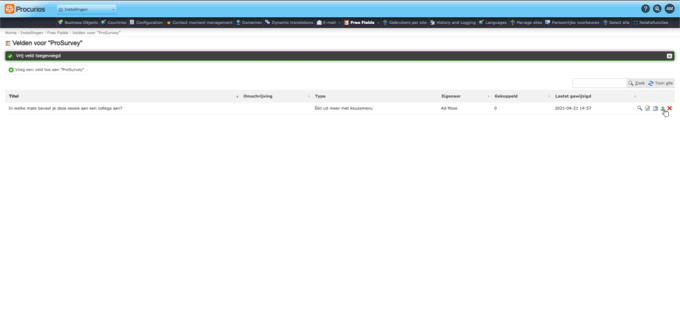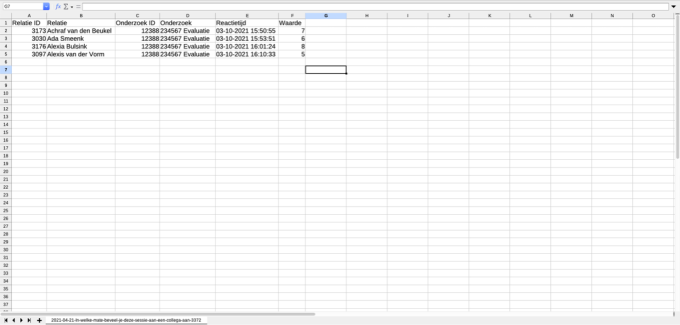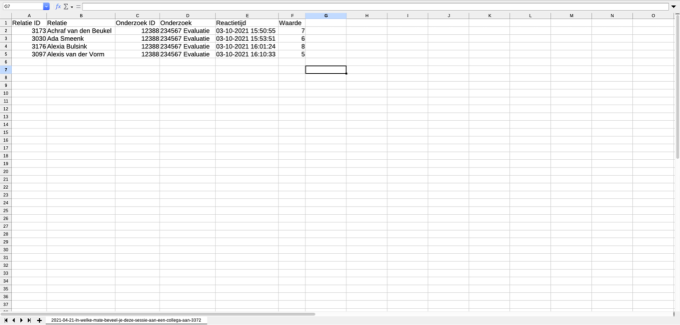 CMS: new look and feel image picker and responsive images
The image picker, the tool you use to choose images for pages, articles and blogs, has received a modest facelift. Image examples now have a more prominent place in the UI.
In addition, images on your website are now responsive. This applies to new images and existing images that are edited. What is the advantage of this? Images will scale better on different screens making them nice and sharp. As a result, images are now also beautifully sharp on high resolution screens (retina screens) such as on many phones, tablets and modern laptops. In addition, scaling images is simplified.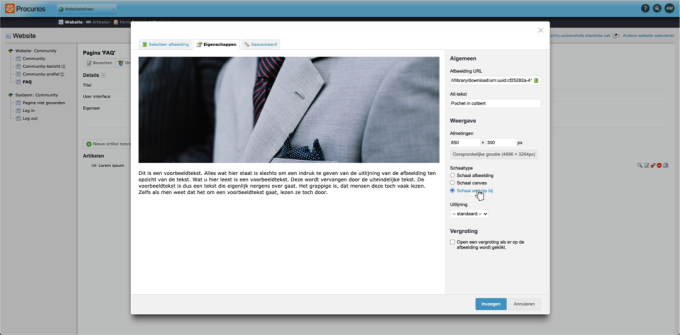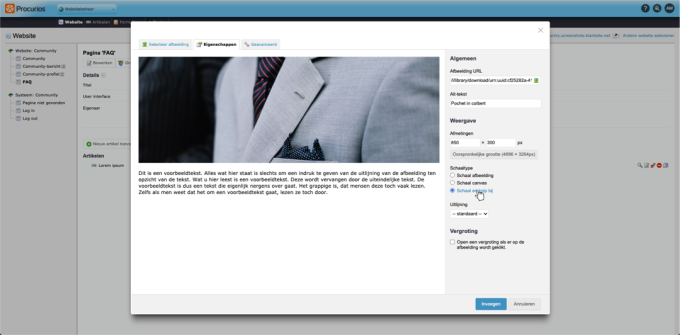 CMS: cookie bar translations and cookie lifetimes
SuperUsers can now translate the text in the cookie bar. You can still choose to keep the default translation (i.e. what is currently displayed). This is also the default setting.
SuperUsers now also have the option to determine the lifetime of cookies that are placed after a visitor has made a choice. This is 12 months by default, but it is now possible to choose a lifetime from a minimum of 1 to a maximum of 12 months.
This can only be adjusted if the 'Cookie Bar Type' is equal to 'Full Functionality Cookie Bar (Recommended)'. This can only be adjusted by a Procurios Consultant.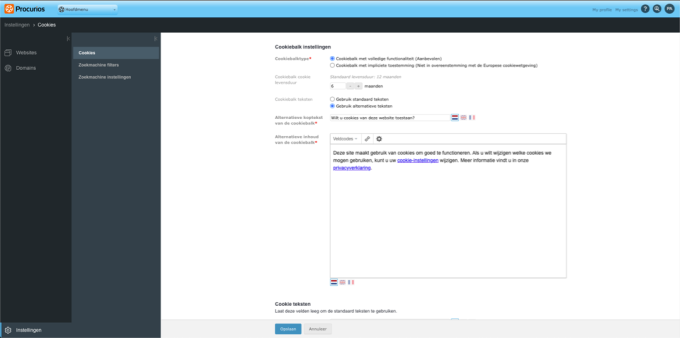 CRM: restrict access to (relation)listings to relation collections
Until now, you could only grant access to views to user roles*, which meant that only users with that specific role could access the view. This has now been extended to include the ability to grant access to a relation list as well. That is, relations that appear in a relations list and can also log into the platform will be granted access to the view.
*) Older customers for whom the Platform is still standardized can also grant access to relationship groups.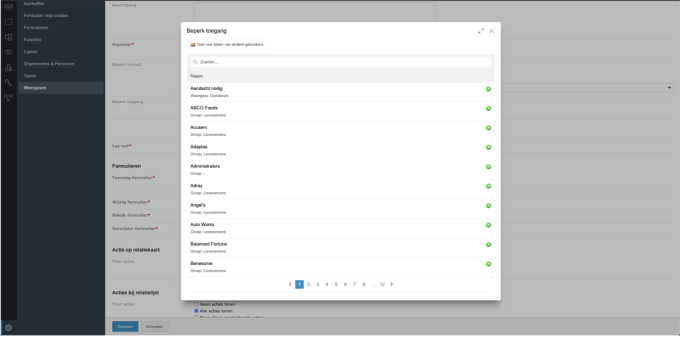 Community: follow/unfollow channels
Following and unfollowing channels can now be done from one place. This was previously separate: following could be done at the top of the list of posts, but unfollowing was hidden under Community Profile > Channels. Those who now click on the 'Follow channel' button will see that the button changes to the 'Following' status. If the button is hovered over, it turns red and the text 'Don't follow channel anymore' appears.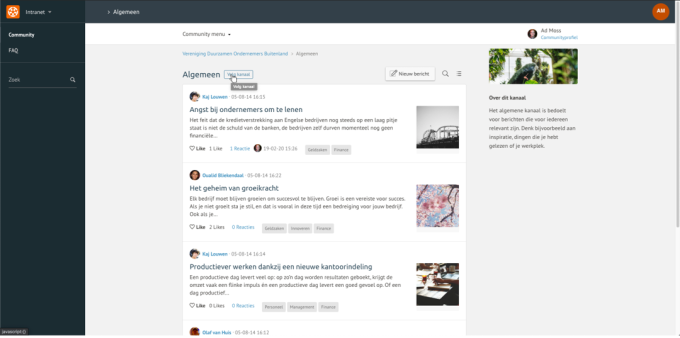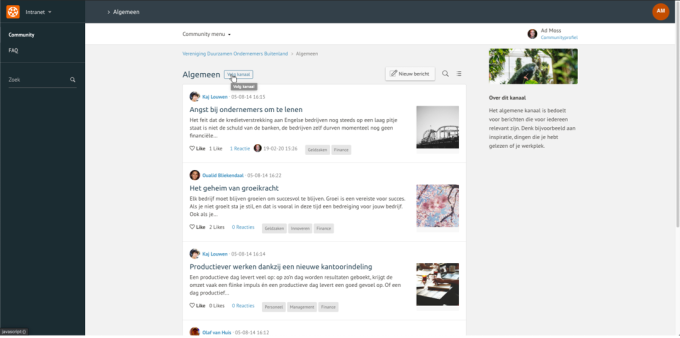 Donations: coding of exports of donations and pledges has been improved
An export of donations or pledges with more than 10,000 rows of data is exported as a .csv file. The encoding (character set) of this file has now changed to a different encoding (from CP1252 to UTF-8). This encoding is much more common and also produces a smaller file size.