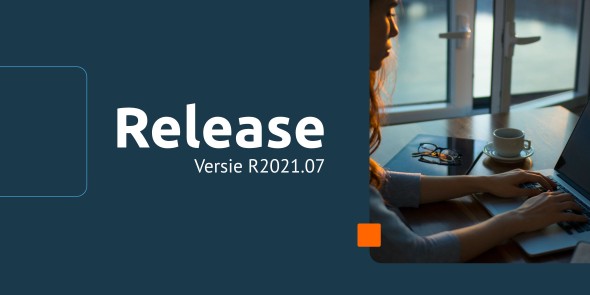 Release 2021.07
In the course of Wednesday June 23th 2021, every customer on the production version of our Platform will use release 2021.07. You can find an overview of the changes in this blog post. For more information on the different versions of our platform, take a look at the release page.
CMS: reduced load times for frequently used articles
The loading time of frequently used articles has been improved. Think for example of weblog overviews or overviews of meetings and events. Also pages with profile forms are now faster. Less information now needs to be retrieved to display pages with these articles and that saves time!
Why is this important? A faster web page offers a better user experience. Search engines also judge websites on their speed. This improvement may therefore lead to more satisfied website visitors and slightly better positions in search engines (although these depend on many more factors).
Mailings: inserting content
Until now, in the design of a mailing you could add new content blocks at the bottom of your mailing. Now it is possible to insert content in between. Each content block will get an additional button, with which you can add a new content block. That block will then be inserted before the selected block.
If your mailing template contains a certain 'container' that can hold a limited number of content blocks, the button will no longer be present when the maximum number of blocks has been reached.
This way it is easier to add content in the right place to somewhat longer newsletters and mailings.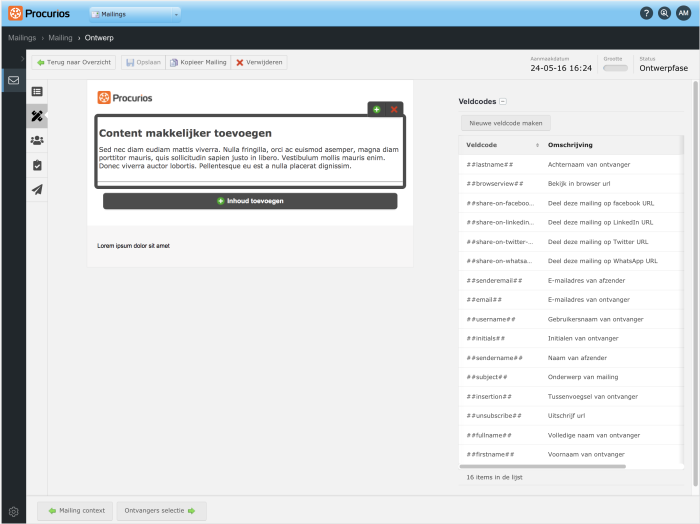 E-Commerce: placeholder texts in free fields
You can now specify a placeholder text for a number of free field types (such as one-line text field and email address). A placeholder is the light-gray text that appears in a text field to help a user fill it out correctly. This text disappears as soon as you start typing.
Why is this important? It is now easier to indicate in free fields what the purpose of that field is. In this way you help users to enter the correct data. In addition, it is easier for all users, including end users, to set up these types of fields.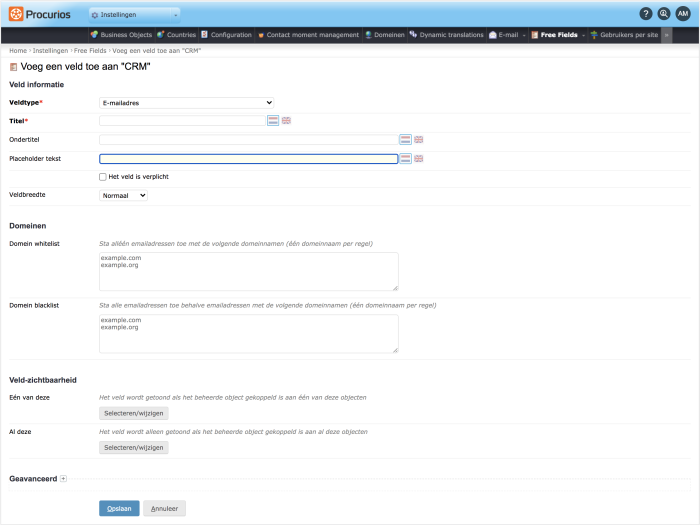 E-Commerce: blocking orders based on conditions
In the web shop you can now ensure that an order is blocked based on certain conditions. A user can then not complete the order.
Why is this important? You may not want to deliver under certain conditions, for example orders below € 150 to the UK, due to new tax rules after Brexit. Orders that meet the specified conditions are now automatically blocked.
You can configure the conditions for blocking an order where you normally set the conditions for shipping costs.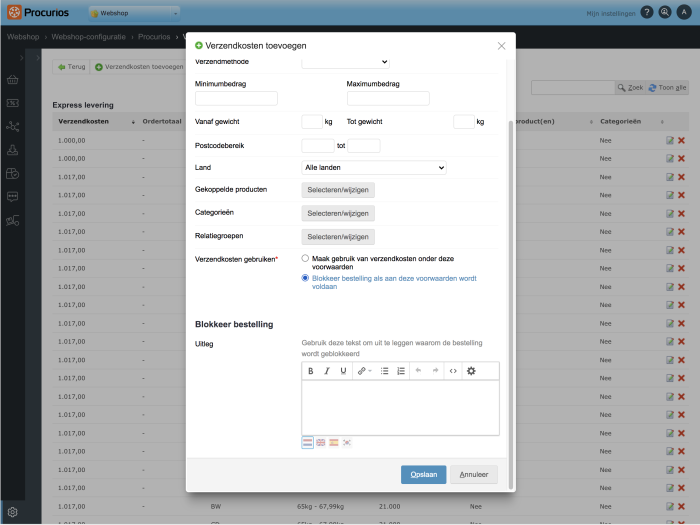 Relation export: spreading options over columns
It was already possible when exporting relation data from free fields with multiple selection options to:
export the value of the options
export the description of the options
New in this release is that you can also choose to export each option to a separate column.
For example:
The free field 'Signed up as a volunteer' has the choice options:
I want to do flyering
I want to help elderly people
I want to collect
and an 'other' option called 'I have another idea'.
When exporting you can choose for
Logged in as a volunteer
Logged in as a volunteer (description)
Logged in as volunteer (columns)
With the last (new) export variant you get the result as shown in the accompanying picture.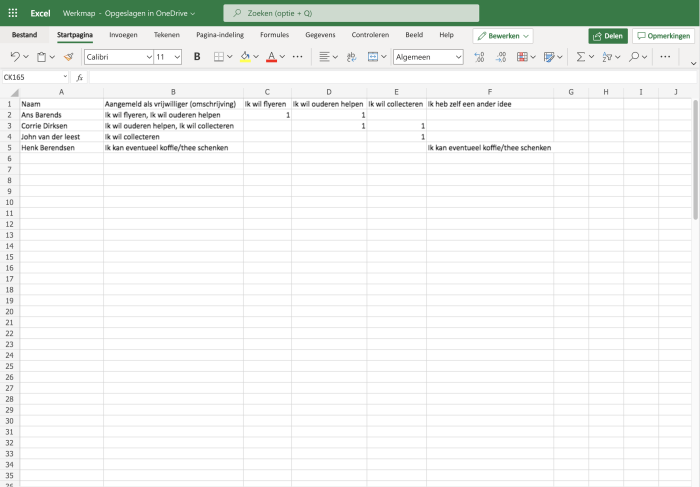 Memberships: more clarity and better organized
The layout of Memberships has been clarified and made more user-friendly. In general, the following things have changed:
The form for adding a subscription type has been changed. Texts have been clarified and fields are only visible when they should be
Pages with settings have been moved to settings
A number of specific changes have also been made:
The field 'Auto convert' can only be enabled when 'Auto renew' is on.
You can now leave the reference on the invoice empty. This was filled by default which prevented you from merging invoice orders.
On the invoice page you can now see if/when there are still subscriptions to renew. The order of the menu items is also changed: they are now in the order in which you perform the processing.
Dialog boxes have been made larger and wider to make all options more clear.
Many explanatory texts such as "Fixed price?" and "Car renewal" have been clarified and the corresponding options have been redesigned.
The button to create subscriptions has returned.
Memberships: subscription rules extended with surcharge and direct debit
Some associations give members a discount if they pay by direct debit. Or an extra amount is charged as administration fee if members do not want to pay by direct debit.
Previously, you had to enter a new subscription rule if the payment method changed so that the correct rate is charged. You could set a rule for applying a discount, but not for a surcharge.
From now on you can set rules for applying a discount or surcharge. You no longer need to change the subscription of the member. Only the direct debit.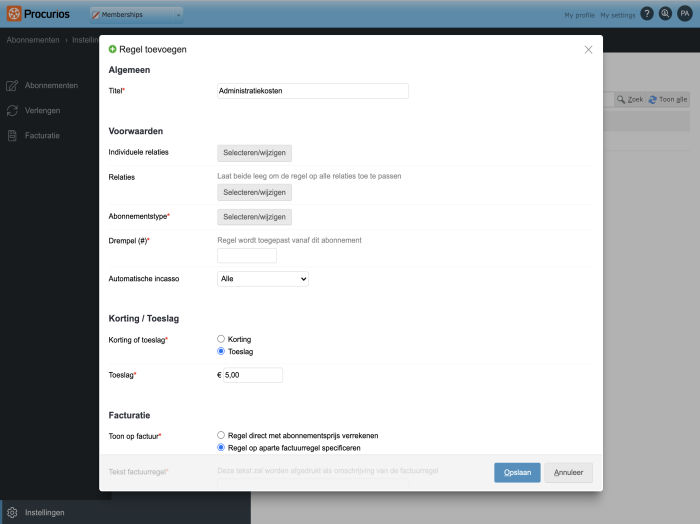 Insights: new metrics
A large number of new metrics have been added to Insights, so that data present in the platform can be unlocked even better. For example, you can now add a widget that displays the number of weblog posts over a given period, or the number of meetings that have taken place. For all newly added metrics, see the overview at the bottom of this item.
One thing that was not supported was keeping track of the number of relations that meet certain conditions at any given time (a relation selection). This is now available, within the context of Insights. Think of the number of relations that have subscribed to a specific newsletter at a certain time.
This data is tracked within Insights from the moment a widget is added. This means that removing the widget causes the data to be lost.
The following metrics have been added in Insights:
Number of meetings
Number of weblog posts
Number of vacancies
Number of form responses (survey)
Opening percentage mailings
Number of relations in a selection
Last billed amount for discontinued subscriptions
Invoiced amount for started subscriptions
Value of started subscriptions
Number of subscriptions invoiced
Catalog: user-friendly configuration for catalog field types and options fed by an external url
The field types with options in the catalog are laid out differently: you first choose whether you want a one-out-of-more or more-out-of-more field, and then you choose how users can make a choice: with a selectbox, radio group or quickpicker (new!).
Also new is that you can have a field's options "fed" by an external URL that provides the fields in a JSON structure. Catalog decides what that structure is and lets the user choose what should be used as a value and what as a title.