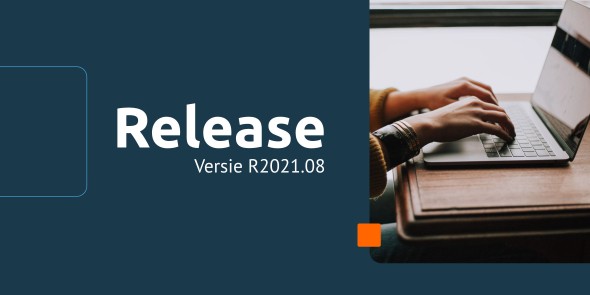 Release 2021.08
In the course of Wednesday July 21st 2021, every customer on the production version of our Platform will use release 2021.0o. You can find an overview of the changes in this blog post. For more information on the different versions of our platform, take a look at the release page.
Memberships: expiration date
It was already possible within Memberships to set a fixed date as invoice date for a subscription. Until now this was only possible if a subscription could be invoiced (and not if it was a free subscription). This has now been changed. You can now, regardless of the type of subscription, set what the fixed expiration date should be at the duration. This is the moment when a subscription is renewed and if necessary also invoiced. If you start a subscription during the year, it will be renewed on the fixed expiration date.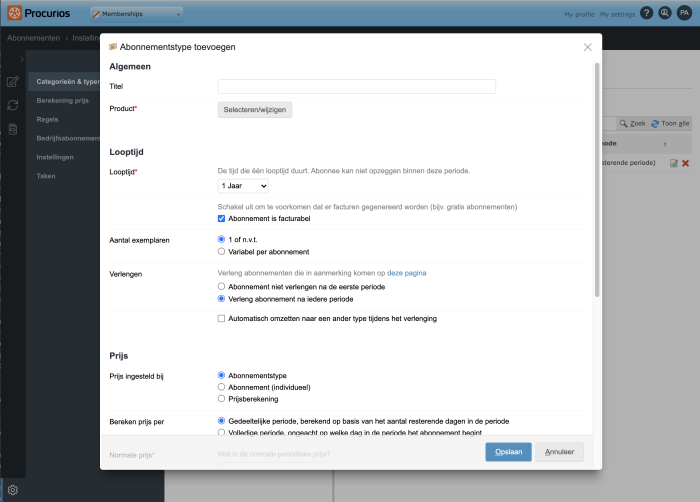 Memberships: first period subscription price based on start date
For a subscription type you could already indicate that a different price should be calculated for the first period of a subscription. For example for a new membership that is started halfway throughout the year. The member then does not pay the full subscription, but in this example half until the end of the year. Many associations adjust their contribution in this way to the moment someone becomes a member.
From now on it is therefore possible to specify a different price for the first period depending on the start date of a subscription. This is based on a percentage of the regular price. Condition is that the subscription type has a duration of 1 year and a fixed billing moment.
If you choose for 'Price first period based on start date' in the settings of a subscription type, then you can specify a percentage of the regular price for different moments in the year. Based on the start date of a subscription and the given percentage, the price for the first period is determined.
Adjustments within an existing subscription type do not affect invoices already created, but take effect from the next billing moment.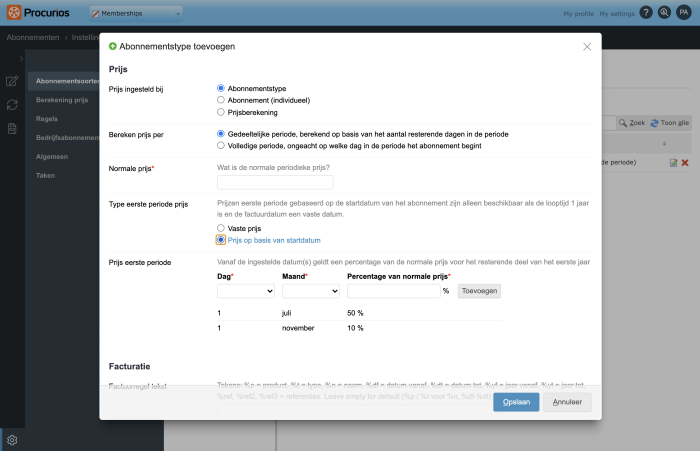 CMS: View/edit website layout
Website layouts sometimes remained in edit mode because someone had looked at the code. Therefore there is now a separate view and separate edit view that you can easily switch between and various texts have been made clearer.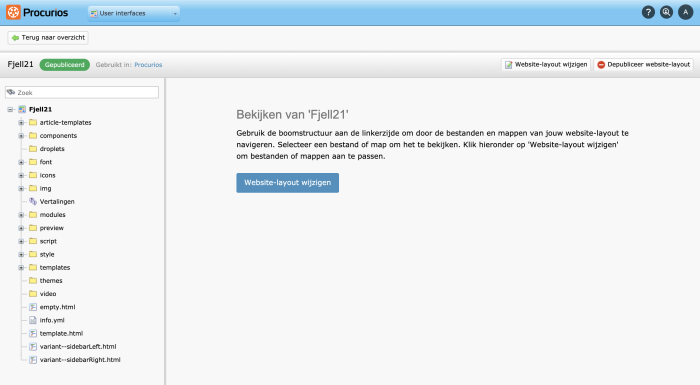 E-commerce: invoicing settings per web shop
Within E-commerce (web shop) it was already possible to generate invoices based on orders. The settings for this were however only for the total webshop design. If you manage multiple shops, you could not differentiate between them. In addition, there was no possibility to add a cost center.
From now on you can choose invoice related settings per shop within E-commerce. Including the administration, the invoice template to be used and possibly the cost center to be applied.
Would you like to use this feature? Create a ticket in the help center and ask to turn on the invoice settings per shop.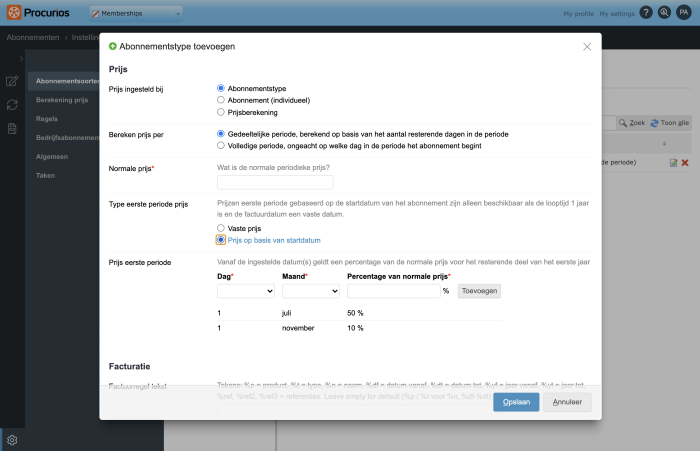 Finance: payment provider Cardgate added
In addition to the links with Mollie, Buckaroo and Ideal v3 and others, a new link has been added with the payment provider Cardgate.
Would you like to use a payment provider through the Procurios platform? First, enter into a contract with a payment provider. Then you can add payment methods from this payment provider in Procurios.
CRM: search results dashboard column management extended with free fields
If you search for relation data from the Dashboard, the search results are shown in an overview. The columns of this overview could already be managed via 'list properties' on the right side of the screen.
Until now, you could only select standard fields here. When managing the columns that are visible after a search from the CRM dashboard you can now also choose free fields. Only Superusers have this option. You can set these fields for example if you want to give extra information in search results that is important for users, for example the salutation of a relation.
Please note that it is now possible that users see free fields in the dashboard result that they cannot see anywhere else within the CRM if fields are only used in the views that they do not have access to. Superusers would be wise to make an informed decision with this knowledge in mind when displaying free fields in the results of a search in the dashboard.
Meetings & Events: clickable labels
Just like weblogs, you can now add clickable labels to Meetings. This will bring you to an overview of meetings with the same label. To activate this you set the 'Overview page' in the 'Meetings details page' in CMS. This is the page on which the overview is displayed.
The styling of meetings on your website has probably been adjusted in such a way that this does not work automatically. If this is the case, please create a ticket via support.procurios.com and ask what it would take in your case to add this functionality to your website template. We will then add this functionality to your website template.
CRM: Creating labels based on contact moments
You can already create labels (address labels) based on a selection in the CMS. But do you have a situation where you would like to create these address labels based on a search query within contact moments and/or want to show the contact moment subject on the label? Then you can now do that as well. If you want to make use of this, please create a ticket and we will turn on this feature (mod_contactmoment_label module) for you.
Let us take a look at an example:
An organization wants to print because of a certain action. They have a shipping house to which they send a batch of labels, and the shipping house wants to know what these labels are for. It could be, for example, a magazine edition that they are sending out. It could also be part of a welcome gift they are sending out.
So the context/reason for which the shipping house uses this label when sending material is very important to them.
A example from a relationship of an organization:
John Doe requests a copy of a magazine, edition January 2021. The administrator can create a contact moment for this request (with or without customization plugged in), and indicate the context of the contact moment: it concerns an shipment of the January 2021 edition.
When printing a set of labels, for this request a label will be printed with the given address (as we know it), and the given context from the contact moment.
The administrator can also indicate that the creation of a label should be made into a contact moment. On the basis of this information it is possible to check (e.g. on the Relation Card) whether a request has actually been processed.