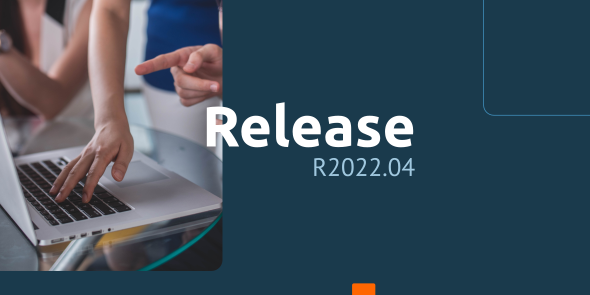 Release 2022.04
In the course of Wednesday, March 30th, 2022, all customers on the production version of the Procurios Platform will use release 2022.04. In this blog you can read all about what's new and what has been improved. For more information about the different versions of the platform, please visit the release page. We would like to remind you that the registration process in Meeting & Events has been updated a while ago. If you are still using the old registration process, we advise you to switch to the new process for all your meetings as soon as possible. The old method is being phased out and will soon no longer be available. Please test the new method thoroughly first, as it may affect the layout of your site. Do you encounter problems that prevent you from making the switch? Please let us know!
Communities: new community features
Communities has been extended with a number of functionalities that promote interaction between participants even more. These include a comments editor, the ability to indicate that messages are inappropriate, Google Maps clusters and a series of minor improvements.
Comment editor
Where previously comments could be written in a text field, they can now be written in an editor. This makes it possible to format comments neatly, for example:
bold,
italic,

underlined,

lists
Report inappropriate messages
You can now indicate that a post or comment is inappropriate. This is done in the context menu of every post and comment, under the three bullet points. If a post is reported as inappropriate, an email is sent to the moderator(s) of the channel where the report was made. They can then decide what action to take on the report.
This feature requires some setup. In principle, a Superuser customer can do this himself. You need to check the box, but your channels also need to have moderators (this is mentioned in the subtitle). Or you need to have a Cc or Bcc set for the email that is sent.
Google Maps clusters (also available outside community)
In the community you can show participants not only in a list, but also on a map. A participant only appears on the map if that person has indicated that they want to see it. For example, it can be nice for fellow sufferers at a patients' association to meet people from the neighbourhood.
This card is also used in other places to show multiple contacts on a card. You can now have relations that overlap on the map grouped together. Google Maps then determines which relations are bundled on the basis of the zoom level. You will then see a circle with how many relations fall within it. If you click on it, the map will zoom in further to the level where you can see the individual relations on the map.
Other notable changes
Messages that already have replies can no longer be deleted by the writer (but only by a moderator). This is to prevent conversations from being lost.
Moderators can disable reactions to a message.
The request for contact details has been clarified. This can be done from the participants list.
The search button is no longer visually present in the participants overview.
E-mail notifications can now be turned off directly from your profile. You can do this per channel under the heading Channels.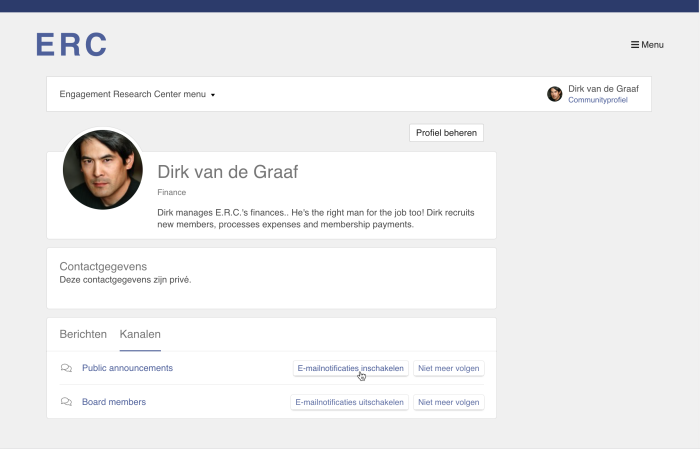 Platform: new font, new size
The font and its size have been changed in the platform. Where previously 11px Verdana was used, this is now 13px Arial. This ensures consistency throughout the platform. All frequently used modules and components have been reviewed in order to remove as many different font definitions as possible.
With a larger font comes other changes. Everything has a bit more room to be in proportion. For example, form elements have changed a lot. Input fields have become larger and the space between them has also been slightly increased. The backend has been given a different look and feel. Also, all forms have now been aligned.
Less information on a page
Because of the change, less information fits on a page. For example, in a list you will now probably see 1.5 items less. And when changing a relation you will probably see 2 to 3 fields less directly on your screen without scrolling.
More is not always better. Because the extra space also made it possible to remove the lines between each form element, we think the page and the form itself also became clearer. Less noise + less at once = easier to work with.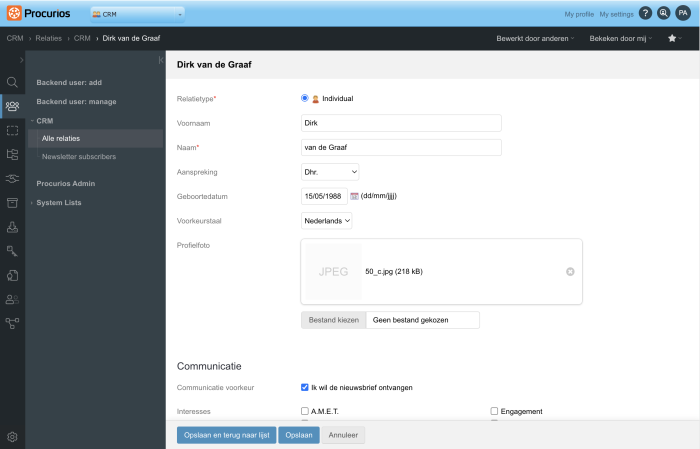 Finance: Peppol
Procurios has realized a link with the Peppol network. Peppol stands for Pan-European Public Procurement OnLine. The purpose of Peppol is to standardize cross-border electronic messaging within the EU. The Peppol network offers a secure way of exchanging sales and purchase invoices, for example.
In your Platform, under Finance > Invoicing Settings > General, you will find a heading called 'UBL-related settings' (UBL is a collective name for electronic invoices). To use this link, your organization must be registered through Procurios. Ask the consultant with whom you periodically have contact or else through a support ticket. The consultant can directly help you with the offer and the correct settings.
CRM: function allocation search by date extended with standard date search options
Previously, you could already filter for function allocations on the based on a date, but these filter rules could only be determined on the basis of the rules "equal to", "before" or "after" date. These options alone are quite adequate, but for other date fields a much more extensive set of options is available that makes it much easier to create a relative filter. That is why we have extended the filter rule 'by date' for job awards with the standard criteria that are also available for other date options.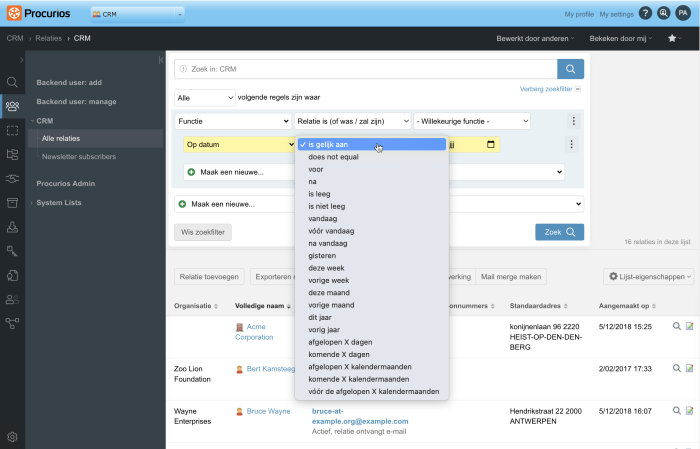 CRM: translatable CRM-types
In the CRM, under Settings, you will find several 'types':
Relationship types, such as person, organisation, school, etc.
Address types, such as standard, postal and billing address
E-mail address types, such as work and private e-mail address
Telephone types such as mobile and landline
These CRM types were not yet multilingual. That is a problem when you work with non-native speakers. As of this release, the CRM types can also be translated and, if you set this up, you will see the term in the user's language everywhere they are used.
You cannot change the address type 'Standard'. It already has its own translation for several languages.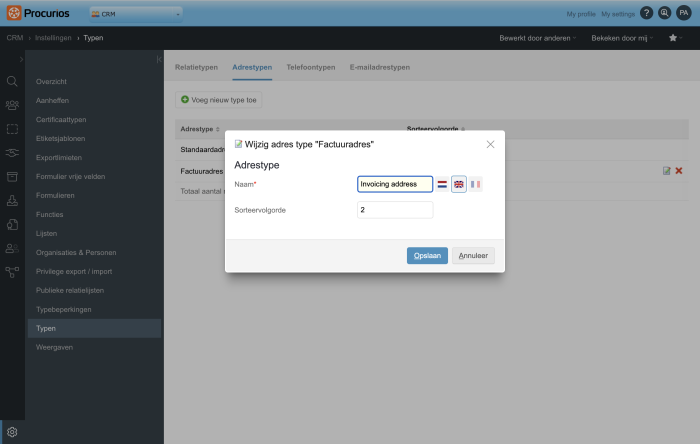 CRM: manage Social Media Accounts
In the CRM, fields are available especially for entering social media accounts such as LinkedIn, Facebook, Twitter, Youtube and Instagram. From now on, these fields can also be imported via the customer import.
In the customer card there is a field available for a simple overview of these accounts. This field creates a list with links to the social media platforms of the filled in social media accounts. This field can now also be selected as a column in a customer list in the CRM. When exporting relations, this becomes a list without html.
CMS: search for location and relationship data in Google Maps
In a Google Maps map, you can search by location (address) or relationship properties. Until now, you could use one of these two methods at a time. If you filled in both, the search was limited to the address. That is not very friendly for the user who has just filled in the search form very carefully. So from now on, we will combine the two searches.
Example:
To show the right relations, we first look at the search query and only then at the address. For example: You search for address "Amsterdam" and relation name "Jansen". If the only Jansen on the map is in the southern city of Maastricht, you will be shown a map of a large part of the Netherlands with a flag in Groningen and a relationship marker in Maastricht. This way we increase the chance of finding a relevant location.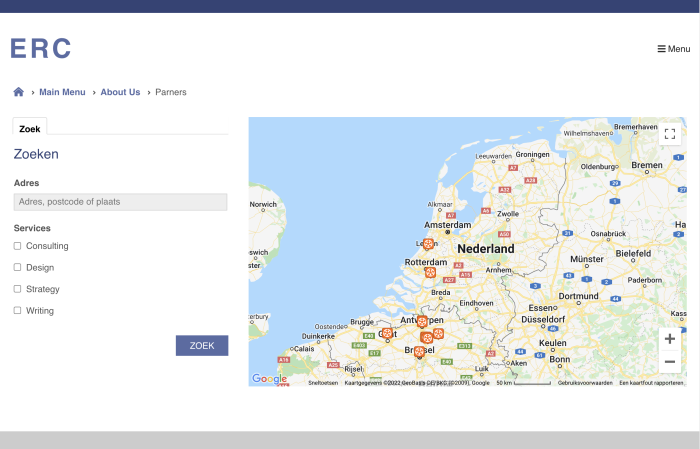 Mailings: improved mailing template generator
With the mailings template generator, standard mail templates can easily be created and provided with e.g. corporate identity colours, images and other details. The available template has been modernised, with a larger font so it is easier to read on mobile phones, and new articles have been made available based on practical questions.
The tool itself has also been improved. There are tooltips to help you with fields that might need some explanation. And the form has become much clearer. If your Procurios Platform is set up as standard, you can start working with this tool immediately.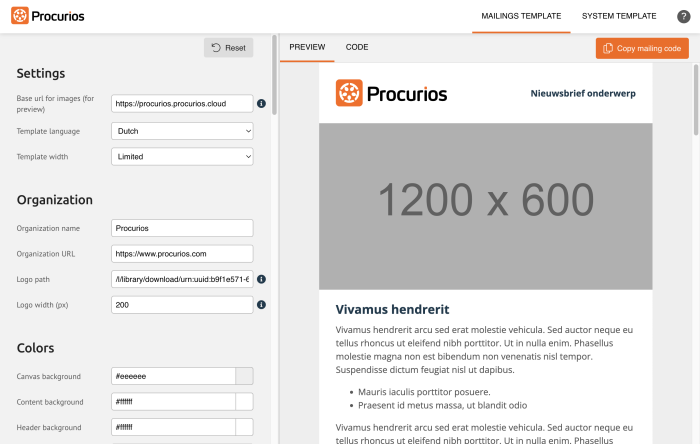 Meetings & Events: delete speakers
In Meetings & Events you could delete speakers. By doing so, you did not only remove the relation as a speaker, but you also removed the entire relation from the CRM. This sometimes went wrong.
We therefore removed the option to remove a speaker. Do you no longer want someone to be a speaker? Then you can change this via the CRM relations card by changing the relevant field or by removing the relation from the relevant relations group. This way, unfortunate accidents are prevented.
Meeting & Events: contact information for registration process meetings
Recently, the registration process of Meetings & Events has been adjusted. Filling in contact information was reduced to one form. However, there may be fields in the contact information that influence the invoicing options. For example, there is a field where you can indicate the company you work for. Or the company you belong to can change based on the domain of your e-mail address. This caused a problem in the new situation, because the billing options were not updated if the subscriber changed this information in his contact information.
Therefore, a new option 'Change contact information' has been added, which means that changing the contact information has a direct effect on the billing possibilities.
Please note: if you are still using the old registration process, we advise you to switch to the new registration process for all your meetings as soon as possible. The old method is being phased out and will soon no longer be available. Please test the new method first, as it may affect the layout of your site. Do you encounter problems that prevent you from making the switch? Please let us know!