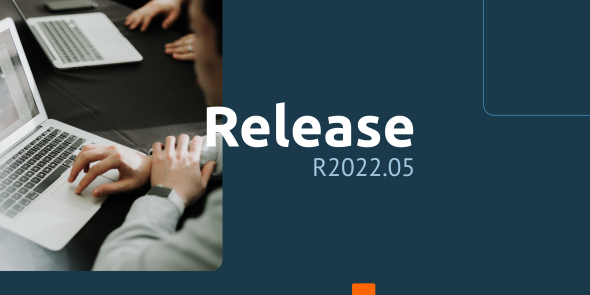 Release 2022.05
In the course of Thursday April 28th, 2022, all customers on the production version of the Procurios Platform will use release 2022.05. In this blog you can read all about what's new and what has been improved. For more information about the different versions of the platform, please visit the release page. We would like to remind you that the registration process in Meeting & Events has been updated a while ago. If you are still using the old registration process, we advise you to switch to the new process for all your meetings as soon as possible. The old method is being phased out and will soon no longer be available. Please test the new method thoroughly first, as it may affect the layout of your site. Do you encounter problems that prevent you from making the switch? Please let us know!
API: Retrieving and saving files via Profile API
Our Profile API offers third parties the possibility to retrieve and store profile data of a relation. Until now, it was not possible to retrieve files via this API. Saving an image file was possible, but it was unclear how to keep or delete the current file of a profile.
That is why we have made a number of changes in the Profile API that make it possible and easier for external parties to retrieve and save files.
We have adapted the technical documentation to reflect this:
Retrieve files
Save, add or keep files
API: Historical meetings in the Meeting API
The Meetings API now offers a list of historical meetings in addition to a list of current and future meetings.
A new Endpoint has been introduced for this. You can find more (technical) information about this in the Meeting API documentation.
CRM: Test salutation
Salutation is an extremely important part for much of you communication. You can find the layout of this under CRM > Settings > Salutation.
Here you can setup how the salutation for Persons should be structured. Taking into account the gender and (usually) the presence of title, initials and first name. To test whether the salutation produces the desired result, such as whether the periods, capital letters, spaces, etc. are all correct, the option 'Test a salutation' has now been added.
With this function you can select one or more relations and test what the salutation will look like for these relations.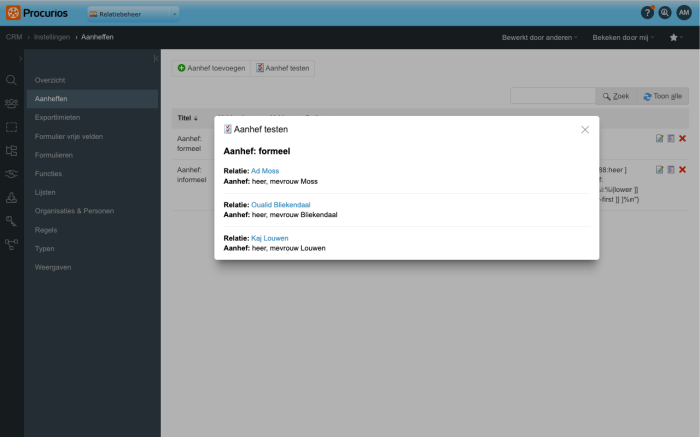 CRM: Relation card exports
On the relation card it is possible to display lists of meetings, download statistics and weblog statistics. These lists can now also be exported.
Finance: Collection date with invoices
When generating direct debit orders from invoices, a collection date must be specified. Assuming collection over several installments (payment in installments), we take into account the month February and you can only specify a date between the 1st and the 28th of the month. This prevents a month from being skipped.
This method is not relevant for invoices that are collected in one go. In fact, those last days of the month are precisely the days when people usually have enough money in their bank account, so fewer cancellations take place.
From now on you can therefore choose any date of a month when specifying the collection date, provided there are no invoices with direct debit payment in installments in the list.
Finance: Payment Features
This note mainly contains a cliff-hanger. But it is still relevant.
We already have payment features for Donations. We are developing payment features from Subscriptions and from Invoices. In preparation for this, there is already a new page under Finance where these different forms of payment characteristics will become clear. If you already use payment features for donations, you will find them here.
More information about the application of this window and the extension to Subscriptions and Invoices will follow later.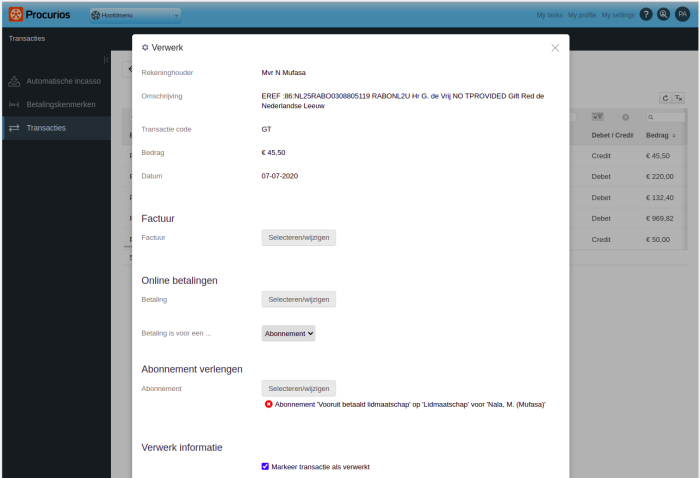 Library: Download Statistics Export
This functionality is not automatically available for every customer (if interested, contact one of our account managers).
For customers who do use this: The list of download statistics has been expanded with an extra column for the organization (via the Customer concept). This column has also been added in the export. In the Library settings you can now also choose up to 5 extra relation fields that will be included in the export.
In addition, the export has been moved to a 'background task'. You can close the browser window while the export is being created. You can then continue working on other things while you wait. An extra page has now also been added for this, so that you can search for and download the exports made. (This does not apply to the list on the relation card and the corresponding export there)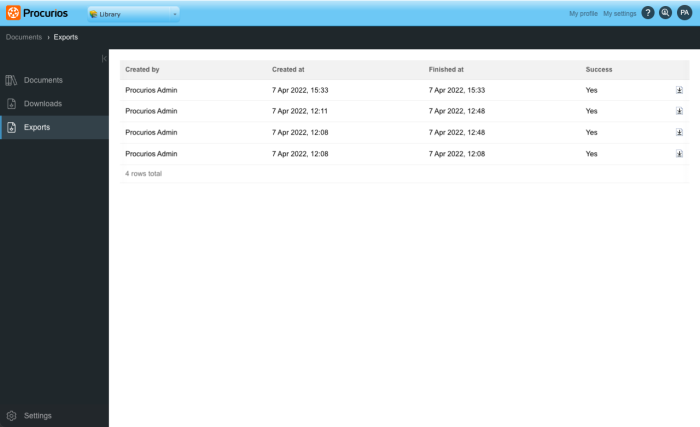 Library: Document key link
If you select a document within Library, you will find a key link in the right column. You can use this link to refer to the document. For example to download it or to show it in a site or email.
The default domain (*.procurios.cloud) in this key link cannot be accessed by every user/visitor due to the lack of access rights. With cutting and pasting of the right domain and a little technical insight you could solve that.
From now on it is possible to set which site should be used as the basis for these key links in the settings of a workspace in Library. The site you set up is then used to determine the domain, and in this way you ensure that documents, images, etc. from Library have a url that fits well with the 'receiving' party.
Meetings & Events: Exporting activity participants
You can export a list of participants from Meetings & Events. This was always an export at the level of the entire meeting. From now on it is also possible to export a list of participants at the level of activities within a program part. When creating an export, you can choose whether you want to export per meeting or per activity. If you choose activity, you will be offered extra fields (relating to program components and activities) that you can include in the export.
If you choose "per activity" it is important to know that:
a participant can be on multiple lines in in the export.
both activities in which someone has participated and activities for which a participant does not have to register are included in the export.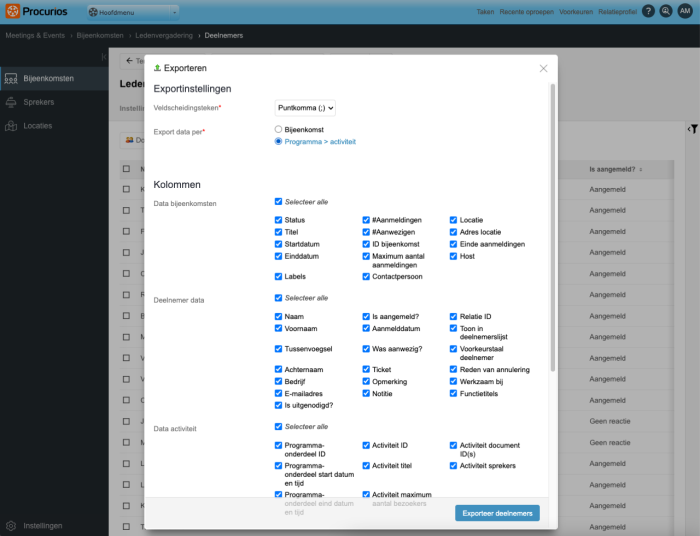 Meetings & Events: Participants export meetings
The export of meeting participants has already changed recently, as you can read in de node above.
For this export it is possible to choose 5 extra relation fields to be included as possible columns. You can configure this in the general settings of the meeting.
When you export, you choose which fields to include in the export. For relation fields where the values ​​have a description, you can also choose the description of the field in addition to the field. This works similar to an CRM export. For example: multiple choice fields or selection fields, where a value such as '1' sometimes does not say as much as the corresponding description.
Memberships: Visibility invoice status within the subscription
In the subscription, you can now see the associated invoices and their payment status. In addition, at the subscription level you can also see a general status that provides insight into the payment status of all invoices together. This can be, for example: 'has not sent any invoices yet', 'all invoices have been paid', 'not all invoices have been paid', 'has outstanding invoices that are overdue' and 'has outstanding invoices that are all not yet due'.
You can now also search for this status of subscriptions in a relationship filter. Previously it was not possible to search for subscriptions in combination with associated invoices.
Memberships: Cancellation period can be set with the subscription type
It is now possible to set a cancellation period for each individual subscription type. If no specific notice period is chosen, the standard notice period of 0 days is used.
Memberships: Renewal type unchangeable
To prevent unwanted situations, it is no longer possible to adjust the subscription type when extending after creating the subscription type.
Changing the type resulted in situations that were not compatible with current subscriptions. For example: invoices that are still open at the time of changing the settings. Therefore, make a well-considered decision when setting up a new subscription type.