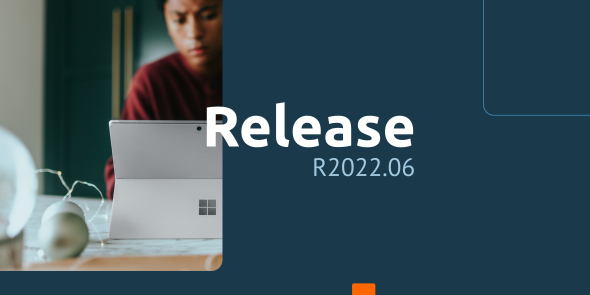 Release 2022.06
In the course of Wednesday May 25, 2022, all customers on the production version of the Procurios Platform will use release 2022.06. In this blog you can read all about what's new and what has been improved. For more information about the different versions of the platform, please visit the release page.
We would like to remind you that the registration process in Meeting & Events has been updated a while ago. If you are still using the old registration process, we advise you to switch to the new process for all your meetings as soon as possible. The old method is being phased out on June 1st, 2022. Read more in the item below.
Meetings & Events: old registration process no longer available as of June 1st
In August last year we announced that the registration process of Meetings & Events had been renewed. Users of Meetings & Events therefore already see a notification when they still use the old registration process. Please also refer to the blog of release 2021.01.
As of June 1st, the old registration process is no longer available. This means that this option will no longer be available for new meetings you create.
For current meetings where the old registration process is still used, you can choose to manually convert it to one of the new registration processes. Meetings that use the old registration process can be recognised by a warning icon in the meeting overview.
Do you want to be consistent in the way you register for all your events? If so, choose to manually convert all current meetings to one of the new registration processes as soon as possible.
Meetings that are still using the old registration process will be migrated soon by us.
Because the registration process will look different on your website, it is possible that the current (custom) styling of your online event page is no longer to your liking. You can request any adjustments by sending an email to support@procurios.com or by creating a ticket.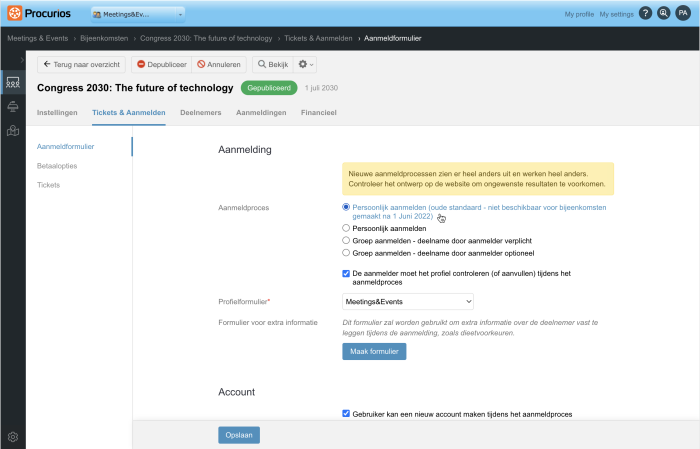 Memberships & Organisations: rules per type of membership
Note: The Memberships & Organisations module is set up and managed by us in most customer environments due to the complexity of this module and its impact on your administration. The function is called Memberships (not to be confused with subscriptions!) of a body (e.g. region or department) within your (national) Organisation. It also controls access for officers of those bodies within the Platform. Does this application and its extension in this release sound interesting for your organisation? Please let us know in a reply to these release notes.
You can now set rules for membership types per body so that you can explicitly indicate who has a certain membership type at which body. This prevents relations from having the wrong membership type at a body. For example, if the relation is a member at one body but a volunteer at another, it could happen the relation would be marked as both a member and volunteer at both bodies. You can now configure membership types per body to avoid this.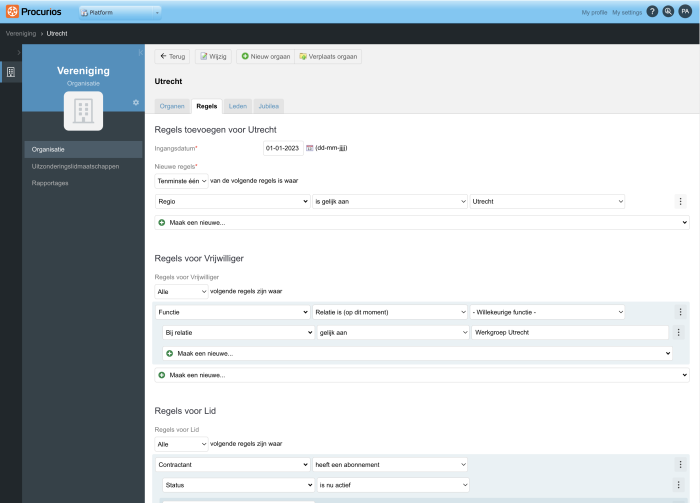 ​​CRM: limitation of the number of function assignements per function
An association often has only one treasurer. And a branch can belong to only one company. Within the Procurios Platform this was not limited, so in theory you could assign ten treasurers to the same association or link an office to multiple companies.
From now on you have the possibility to limit the number of function assignments per function. You can set per Function through CRM > Configuration > Functions:
up to how many Functionals are allowed in relation to a Target Relationship
and/or
how many Target relations are allowed in relation to a Function.
When you have set limits on a function, it can also happen that a limit is about to be exceeded. This can lead to conflicts in the system, which is why the system issues a message. This message will indicate, as far as possible, how you can solve this violation. Sometimes this can be done by making a specific suggestion and sometimes the user will be referred to the relevant relations to make manual adjustments himself.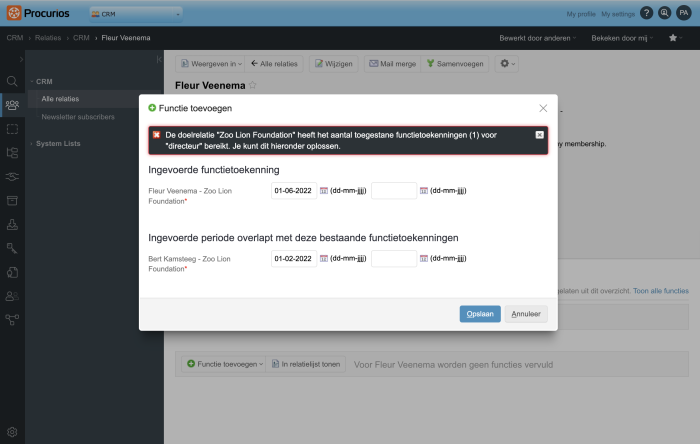 Mailings: improvements to the Mailings Template Generator
As of Release 2021.11 the Mailings Template Generator has been available for use. Based on feedback from users (for which we are grateful), a number of improvements are made available with this release.
Use of colour codes made more explicit
We have made the use of colour codes more clear. Since so-called Hex colour codes are best supported by e-mail clients, we have adapted the generator so that only that type of colour code can be used. With hex colour codes, you also have the option to choose the 'shorthand variant' (#000). If you set this in the colour field, it is automatically changed to the full variant. If you accidentally type or paste a colour code with a # in the colour field, it will be automatically filtered out.
Image fields
Above each image field, such as the logo for example, there is now the url as set in the field 'base url for images'. Also a tooltip has been added with an explanation.
Organisation-url and website-url
The organisation-url is used to create links of for example the logo.

The website text and url are included in the contact information in the footer. Because the organisation-url and the website-text and -url are almost always the same, the website-text and -url will now automatically be adapted when the organisation-url is changed. However, if you change the website text or url manually, this link will be lost. It is then assumed that you have consciously chosen to change those fields manually.