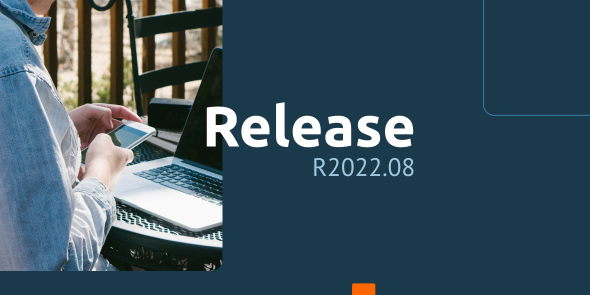 Release 2022.08
In the course of Wednesday July 20, 2022, all customers on the production version of the Procurios Platform will use release 2022.08. In this blog you can read all about what's new and what has been improved. For more information about the different versions of the platform, please visit the release page.
Memberships: online registration for subscriptions
Prior to this release, employees still had to manually enter a subscription after registering a new subscription (or membership) online.* This can be done more efficiently, which is why it is now possible to automate this task.
Note: this module is not included in your Platform by default. Please ask your consultant about this possibility.
Within Memberships you can indicate which subscription options can be chosen online under Settings. Here you can choose from personal subscriptions or company subscriptions, i.e. a subscription for the company where a registrant works. You can also set up a confirmation e-mail here.
Within Profile & Registration, new fields have become available that allow you to set up your form as you see fit. And via two new article types, the forms can then be published via CMS.
The result of a registration is an active subscription that you don't have to worry about (administratively speaking).
TIP: Keep your Platform tidy. Were you previously working with status fields and relationship lists for processing new subscription registrations? Delete them as soon as you no longer need them.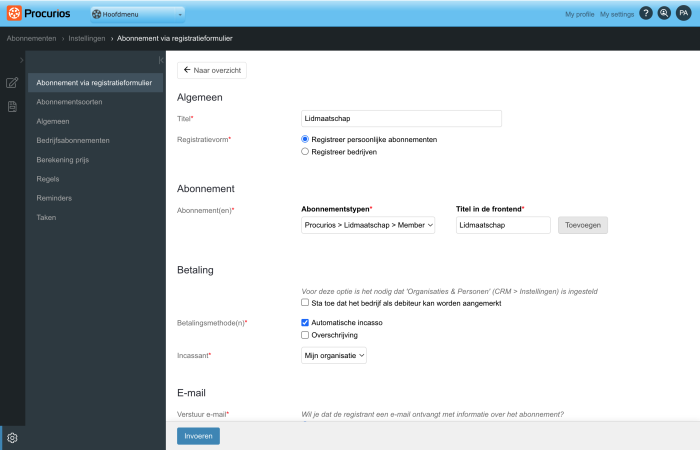 API: meeting (v2)
The API for Meetings (v2) has been extended. Much of this is technical in nature, to keep it understandable you will find a short summary of changes below:
Info about participant (Attendee endpoint): in addition to the full name, the separate name fields and the name of the organisation are now included.
New endpoint for locations, information of the locations can be retrieved with this.
Properties of a registration:
Is registration possible? Based on settings on Tickets.
Is cancellation possible? If yes, until when?
4. Added:
Cover photo
Attendance mode - 'where' does a meeting take place: online, offline or hybrid?
Tags
5. Filters that can be used on the frontend can now also be used via the API
The full (technical) documentation on our APIs can be found here: https://api.procurios.com/api_documentation.
CRM: activation mail for different types of users
When manually creating a new User (= someone who can log in) from the backend of the Platform* you have to indicate for which site (backend or frontend site) you are making him User and what his fallback language is. The new user will then receive an activation mail based on a predefined email content template.
If all users receive the same activation e-mail, this works well. In the practice of some organisations, there are several types of users who must be approached separately.
Via CRM > Settings > User accounts, you can now set up several variations for different types of users. The e-mail template text has been moved to this page, which ensures that you can enter a separate e-mail text for each group. This e-mail text has been made translatable. A user will then receive the mail in the language that is specified as the preferred language. If no language is known, the fallback language from this new configuration will be used.
If you choose 'Create user' for a Relation, then you only have to choose the user type. Based on this, the predefined activation mail is then sent to the new user.
As long as no Configuration is set up in this new way, the old method will continue to work. When a first Configuration is created, the old method automatically expires and the new method becomes valid.
*) This does not concern the activation mail sent from a Registration Form.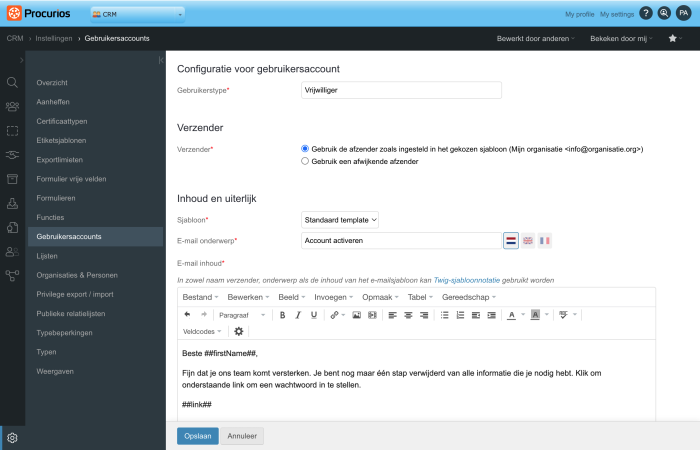 CRM: search by Organisation
Within CRM at Organisations & Persons (CRM > Settings > Organisations & Persons) you can make explicit what the definition organisation-person means. For example: Employee > Organisation. The system uses this definition in several places. Among others, the Organisation fields in the CRM when exporting.
From now on, it is also possible to use this definition in Search in the CRM. In this way you get the same results when searching in the CRM as in other places where Organisations & Persons is used.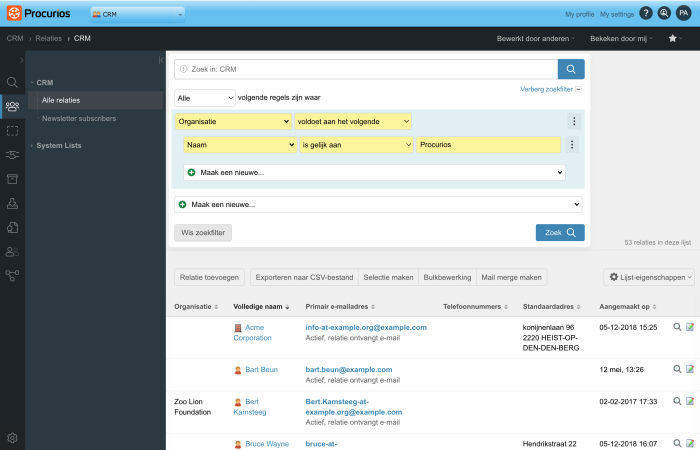 CRM: telephone fields at Organisations & Individuals
It was already possible to make different e-mail types available when setting up Organisations & Persons, but for phone types it was only possible to use the 'Phone numbers' field. You can now set which phone types ( landline, mobile, work) should be available within Profile & Registration.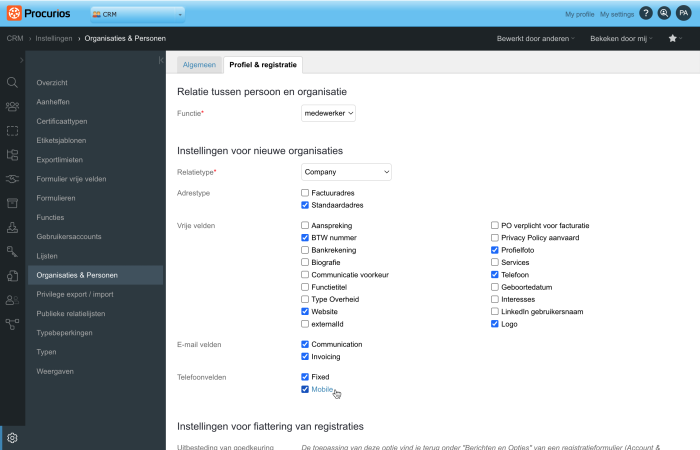 CMS: search in weblog
The website search function was already able to index and search weblog messages in addition to articles. In some situations a visitor is only looking for a specific blog entry. You can now add a new search filter via Filters that only searches within the text of weblog messages in a blog overview.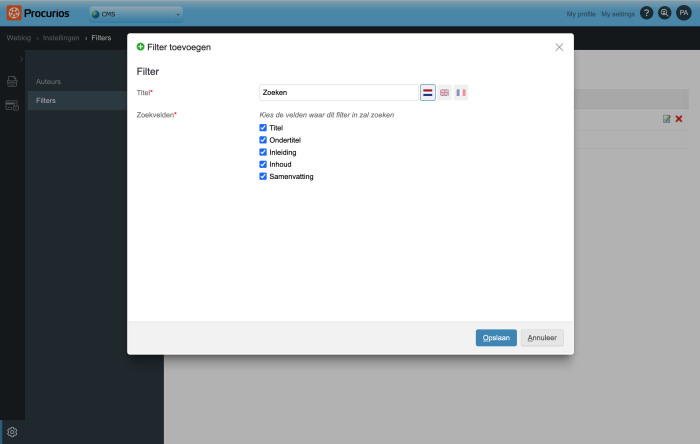 CMS: translations within Twig in Website Templates
The translations of texts within HTML, Javascript or YML files of a website template could already be managed. However, it was not yet possible to translate texts within one of the Twig files yourself. This option has now been added, so that you can translate the Twig texts yourself via the "Translations" item within the template administration.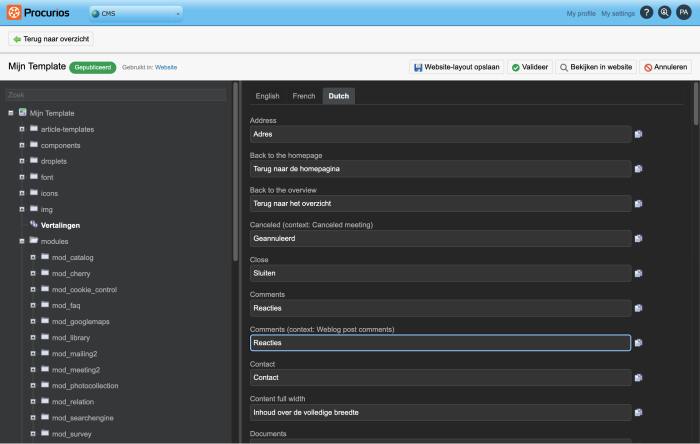 Finance: improvements in Finance
Within the invoices section, it was already possible to have multiple administrations so that invoices could be issued per administration. These administrations were not yet present in all sections of Finance (such as transaction processing). To make this possible, both the layout of Finance and the place where you can manage these administrations have been removed from Invoices. This makes it possible to limit all financial processes to a specific administration.
With these improvements, a few parts have been moved: 'All invoices' can now be found within the administration. Customers with one administration do not have to choose the administration first: this step is then skipped. In the Finance menu, all components of the financial process have been given a place.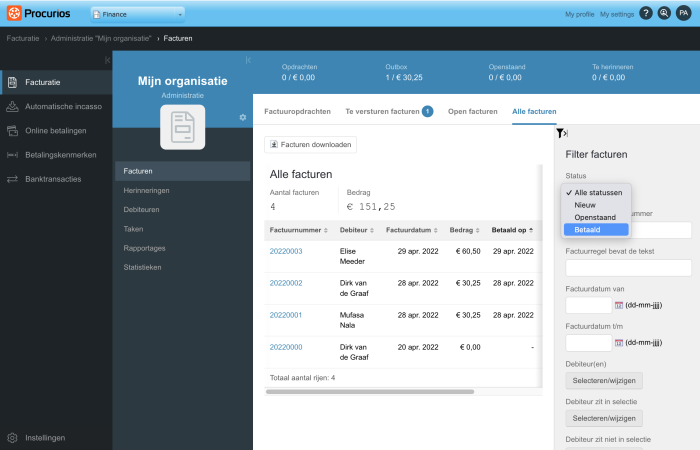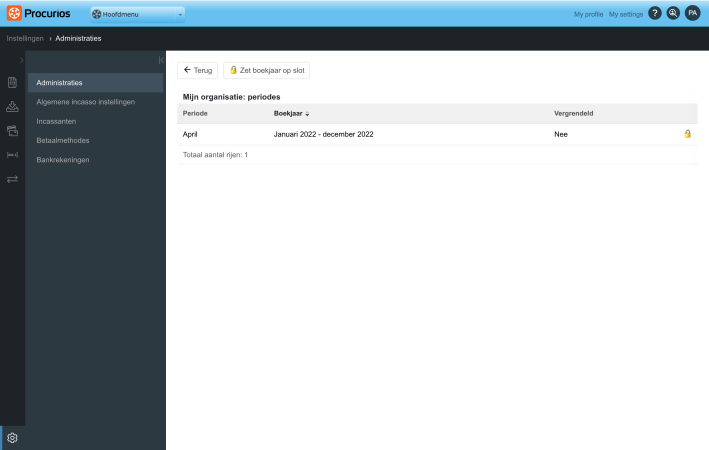 Meetings & Events: publish overview of branch meetings
When using meetings for branches, it was already possible to link meetings explicitly to a branch. It was not yet possible to publish an overview of these meetings on a branch website. For this purpose, a setting has been added within the article 'Meetings overview'.