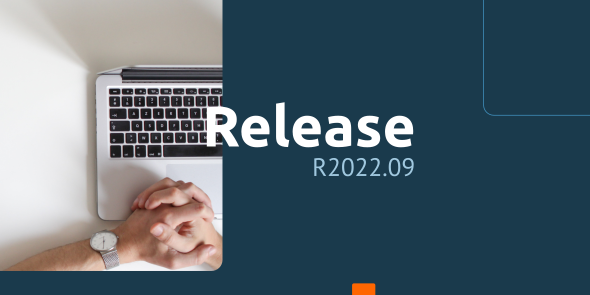 Release 2022.09
In the course of Wednesday August 17, 2022, all customers on the production version of the Procurios Platform will use release 2022.09. In this blog you can read all about what's new and what has been improved. For more information about the different versions of the platform, please visit the release page.
CMS: Google Maps API keys change
Because of a security change at Google Maps, we had to change the way API keys are used. Therefore it is now possible to secure keys in certain situations, where previously this was not possible. In the situation that a Google Maps map is used to show relations, two keys can now be added: one key secured on domain (for showing relations on the map) and one key secured on IP address (for searching relations based on a city or zip code). For IP address protection, the following range can be used: 213.193.247.0/24
CRM: data from notification email
For privacy reasons, it is not desirable to send personal data by e-mail. These data are currently still being sent in notification e-mails from profile and registration forms.
From now on, forms that are created will no longer include this data in the notification mail. There is a link in the email that points to the relevant relationship. There, all information is available after one click and login.
Existing forms where notifications are already enabled will continue to function as they did before. However, it is possible here to disable that personal data is included in the mail. Our advice is to change this in all your forms.
CRM: extension of filters in public relation lists
In public relations lists it was possible to define filters, this could be based on free fields and collections. This has now been extended with extra free field types: all text and HTML fields can now also be added. For filters based on option fields it is now also possible to define the field type of the filter (e.g. checkboxes or a drop-down menu). Also, the standard relationship properties (e.g. city name, full name) and search by organization data (e.g. the company name of a member) have been added as filters.
CRM: searching by distance in public relation lists
Searching by distance was only possible with a Google Maps map, but also in a relationship list the search by distance in combination with other filters is very desirable. To make this possible, a new filter type has been added to public relationship lists.
Please note that this requires an API key from Google Maps, linked to a credit card.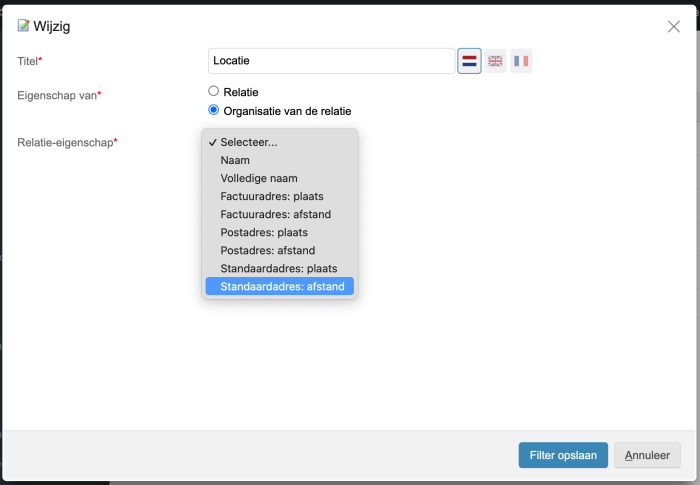 Donations: donation type PIN
With a donation you can indicate how the donation was received. In line with the current donation types, the donation type "PIN" has now been added. It could not yet be processed in a different way and was still missing in the list of donation types.
Meetings & Events: expansion of meeting certificate tokens
The available tokens of meeting certificates have been extended with a number of extra standard relation properties and free fields. The reason for this is proof of participation where, among other things, the date of birth must be on the certificate. These certificates of participation are often used as proof of certification and recertification.
Mailings: adding links to documents has been modified
Previously, links had to be copied and pasted manually in mailings. From this release onwards, in addition to the option to paste an url in the field yourself, you also have a document picker. With this you can click on a document in Library (or upload a new one) and then automatically a link to that document will be placed in the mailing.