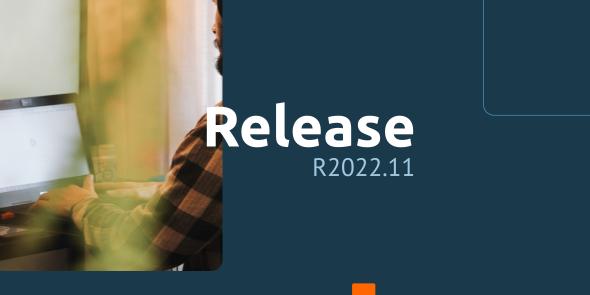 Release 2022.11
In the course of Wednesday October 12th, 2022, all customers on the production version of the Procurios Platform will use release 2022.11. In this blog you can read all about what's new and what has been improved. For more information about the different versions of the platform, please visit the release page.
CMS: paid self-service for job postings
Some Procurios clients use a feature in the CMS for a self-service service that allows users to post jobs online themselves. (This option is not found by default in the menu of most customer environments).
This job self-service module has recently been upgraded with the most important feature being that you can set users to pay for posting jobs. It thus becomes a paid service that you can offer as an association.

In addition, the interface has been updated so that the appearance of the module matches the rest of the Platform.
The possibilities at a glance:
Offer additional services. These are optional services for the user such as "Display on the homepage of our site" or "Display in our newsletter". On top of the standard price, you can charge an additional amount for these.
Alternative payment options. You can have a collection of relations pay a different price (e.g. a discount) for the services purchased.
Price agreements. If a user purchases multiple services, you can give him an alternative price.
A new CMS article type 'job self-service'. This will publish the self-service functionality on your site.
If you are already using the 'older' (non-paid) job self-service and want to switch to the paid self-service version, we recommend consulting your consultant to avoid any unforeseen issues.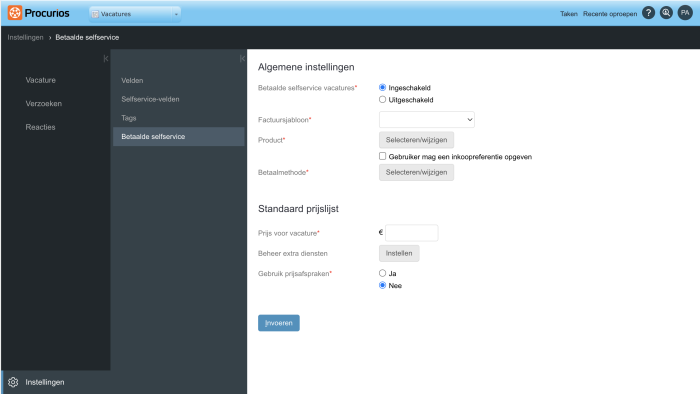 CRM: organisation name in quick finder and public relationship list
If for a moment you can't remember someone's name, but do know the name of the organisation that person is working for, then quick search by organisation name is a convenient way to find out the person in question. This option has been added in the 'manage quick search'. If this field is on in the quick search, then by searching by the organisation name (e.g. Procurios) you will also get all the employees in the results.
The quick search also affects Public Relation Lists, meaning that if you use the CMS article type 'public relation list', your site visitor can also search here for an organisation to find persons.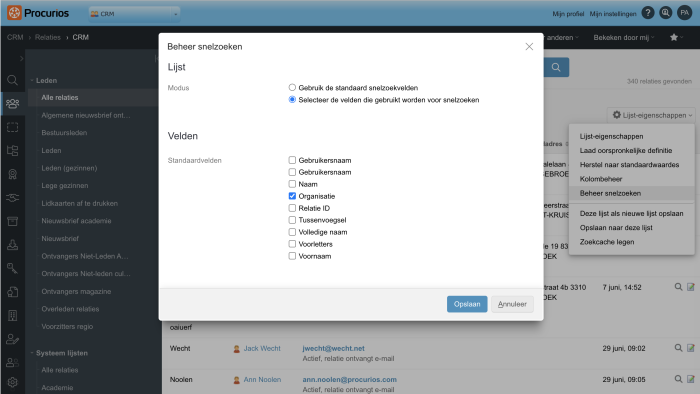 Finance: one menu item in the menu
The finance part of the Procurios Platform consists of a number of components: collections, disbursements, bank transactions, payment characteristics, online payments and invoicing. In the past, these components were not listed in the same way in the main menu for every Procurios customer. The components are now brought together under one menu item in the main menu: Finance.
Finance: reminder per invoice
Previously it you could only send a reminder for invoices by sending a list to the relevant debtor (by email or postal services) for all open invoices. Thus, one reminder could contain multiple invoices, but texts in this reminder could not yet be customised to a specific invoice, type of reminder (1st, 2nd etc.) or invoice template.
As of this release, it is possible within Finance to use Reminder per Invoice instead of Reminder per Debtor.
Please note that in order to use this, some preliminary work is required: the different reminder steps need to be worked out in terms of email texts, reminder templates and due dates. It is also necessary to migrate existing invoices to the correct reminder step. The implementation of this new feature is currently only possible with help of a consultant.
Are you not currently using reminders? Then you can set this up yourself by creating the reminders via the administration settings.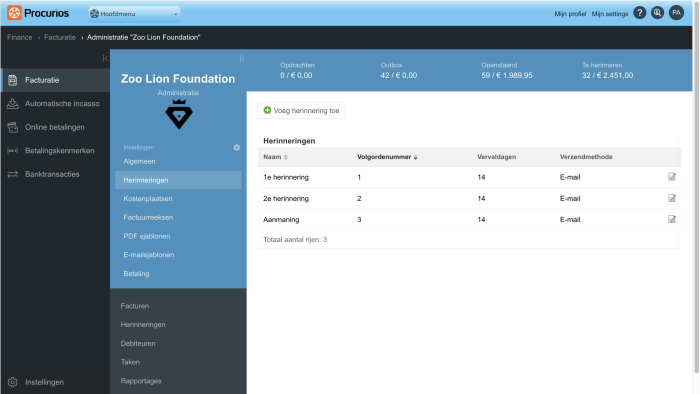 Meetings & Events: address fields on certificates
If you use certifications for meetings, you can now add address fields to the fields on the certificate. Each address field (street, house number, city, etc) of each address type, can be selected separately. So you are free to choose which address information is put on the certificate. For example, you can choose the city of residence only.
Meetings & Events: ticket code length expanded
Within Meetings you can apply ticket codes to a ticket. For example, you can deploy these as a voucher so that only people with that code can choose that ticket. These codes had a maximum length of 8 characters. In some cases this turned out to be too limited. This maximum length has therefore been extended to a maximum of 64 characters.
Mailings: filtering by layout
The number of draft mailings within Mailings can be quite large. Often there are several layouts (templates) that have been used over time. If you no longer need a layout and want to delete it, it is necessary to delete all draft mailings that use it as well.
In the filter of the list of draft mailings it is therefore now possible to filter by layout. That way you can quickly find the mailings that use the layout you want to delete.