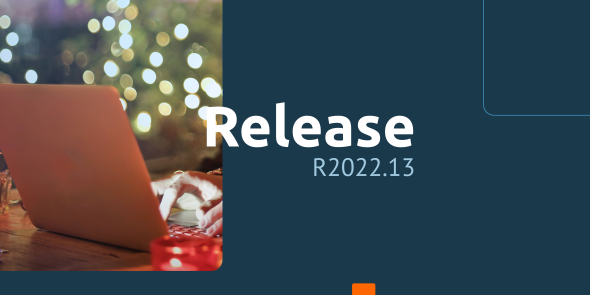 Release 2022.13
In the course of Wednesday December 7th, 2022, all customers on the production version of the Procurios Platform will use release 2022.13. In this blog you can read all about what's new and what has been improved. For more information about the different versions of the platform, please visit the release page.
API: multilingualism meetings
The meeting API has had an addition. For the meeting endpoints and the location endpoint, title and description properties have been added as multilingual properties.
Communities: participants, home page and more
We have made improvements to the usability and clarity of Communities.
All community participants
Per channel, a participant could already see who the other participants of that channel were. We have added that you can also search for participants from the entire community, making it easier to connect with the right people. The link to this participant page is part of the Community menu.
If you use the article type 'Participants per channel', then the search/filtering automatically works here as well.
Sidebar on start page
To give 'all participants of the community' a more prominent place on the start page, the sidebar that was already available for channels can now also be enabled for the start page (the start page is only visible if more than one channel is available for the participant). All components that were previously available for a channel are now also available here. So: image, introduction text and community rules.
Choice between text or redirect
If the community is viewed by someone who does not have access to it, you can show a message with an explanation. This notification has no formatting options. Because this is sometimes needed, you can redirect the visitor to another page. There you can of course use all formatting options.
General settings cleaned up
Because of the above new possibilities, the general settings of the community became a bit cluttered. These have therefore been rearranged. Two separate tabs have been added for everything related to "Access" and "Display".
Visual changes for participants
Several small visual changes have been made on the front-end (what the participants see). Most importantly, the 'Follow Channel' button is now more clearly highlighted. It now automatically takes on the color of links on the page. This helps users find this button more easily.
Other changes include:
Sidebar is slightly wider
Community menu has fewer (unnecessary) lines
Pictures of participants are larger
New post button is more highlighted
The picture in the overview no longer overlaps with the labels, which sometimes happened
Who follows this channel
As a Community administrator, you can now see in the backend at the participants of a channel who follows the channel and who has email notifications (for that channel) turned on.
Consequences of relationship archiving
When a relationship was deleted, you were asked what to do with that person's data in the Community.From now on, this is also asked when you archive a relationship. You can choose to keep or delete Likes, Posts and Comments. And when retaining whether you want to anonymize them or keep the name.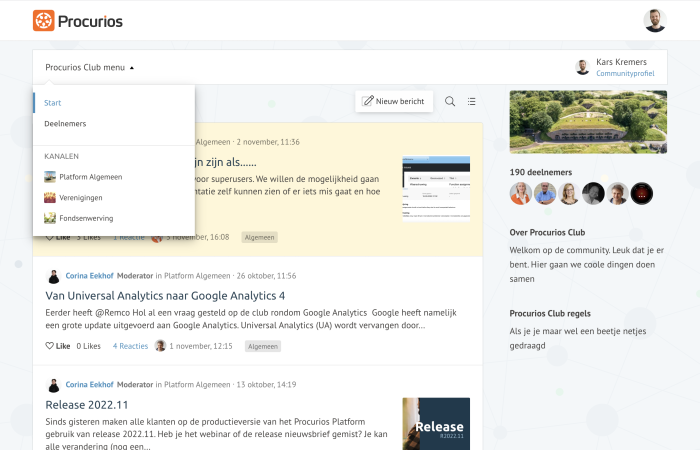 Communities: additional profile fields
A community manager can select CRM fields in the community to be displayed on users' profile pages. These fields were limited to a small selection of field types. This has now been expanded to include more field types.
CRM: notification 'profile saved' visible on profile page
When a profile page is saved, you can set it to show a notification that the data has been saved.
Previously this notification was shown on the page you came from, now it is shown on the profile form page.
CRM: customize payment title method for a subscription
When automatically creating a subscription via ´profile and registration´ you can create a registration set when setting up the subscription.
From now on, for the payment methods ´automatic direct debit´ and ´transfer´ a (multilingual) title can be specified that will be displayed on the form.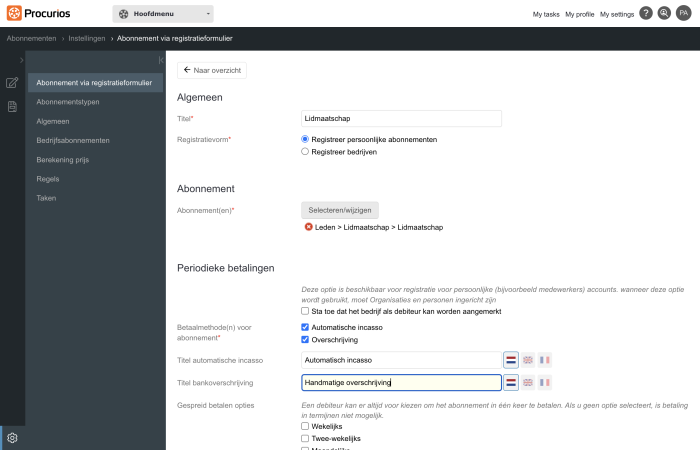 CRM: search by postal code improved
Searching for a relation by zip code was somewhat cumbersome because the relation filter required you to enter the zip codes in exactly 'the right' way. You can now search by zip code more easily, as this feature has been improved in two ways:
Our search function no longer sees a difference between zip codes with or without a space between the numbers and letters. Searching for 3992 LX and 3992LX returns the same results.
Smarter use is made of the line "Postal code - is one of the following:" when searching for two postal codes at once. Again, you can now use spaces. Eg: '3961 MX, 3992 LX' and curly braces around the zip codes are no longer needed: '3961MX', '3992 LX'.
Donations: donor types in donation export
The donor type has been added as a new column in the Excel donation export. If a donation has no donor type, the field in the export is empty.
The column is added at the end of the donation properties and before the donor data: Column L. Therefore, pay attention to your work process following the export of the donations, because all columns from column L move up one place.
E-commerce: limit visibility of webshop category
It may be that you offer products in your webshop that you only want to present to a specific target group. You can therefore now assign or exclude a specific Relation List or an individual relation to a product category.
Finance: bulk crediting of paid invoices
There are situations where you want to credit multiple already paid invoices in bulk, instead of doing it manually per invoice. We have therefore made the bulk crediting option available under the heading 'All invoices'.
Previously, you could only credit paid invoices individually. Bulk crediting of invoices was only possible for invoices not yet paid.
The ability to credit paid invoices in bulk comes in handy, for example, for a cancelled event where attendees have paid in advance.
Finance: internal title payment methods
Payment methods have both a Title and a Public title. The name of the Title field has been made more explicit and is now called 'Internal Title'. From now on, in the overview of online payments, this field, instead of the 'Public title' field, is shown as being 'Payment method'.
The 'Internal title' field is optional. If not filled, the 'Public title' will be used.
Finance: reverse charge VAT now available
If you send an invoice to a foreign debtor, you may have to deal with different VAT rules, as a result of which you may have to 'reverse charge' VAT, i.e. the customer is liable for VAT instead of the supplier. It is therefore now possible to create invoices on which the VAT is reverse-charged. The invoice will then show 'reverse charge VAT' where previously the VAT percentage was shown.
In addition, when creating an invoice with reverse charge VAT, we check whether a VAT number has been entered for the debtor and whether it complies with the correct format. We do the latter through a service of the European Commission called VIES. A message appears in the timeline accompanying the invoice if this check is negative.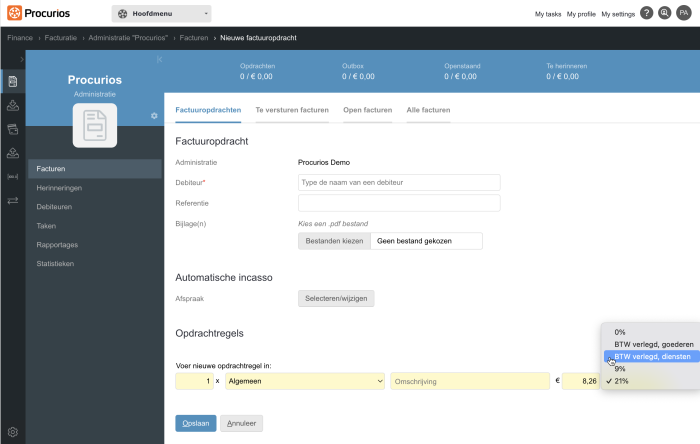 Platform: from Universal Analytics to Google Analytics 4
Google will replace Universal Analytics (UA) with Google Analytics 4 (GA4) in 2023. As of July 1, 2023, UA no longer processes data. It has already been possible to set up a GA4 property for some time.
Our platform has therefore been made suitable for Google Analytics 4, but in the meantime Universal Analytics still remains active. They are now fed website data at the same time. To be able to use GA4, a new property needs to be created in the Google Analytics dashboard, giving you a new code. Both properties can coexist.
CMS
You can then set up the new GA4 code in the CMS at Procurios. You recognize the UA code by "UA-" and the GA code by "G-". Setting this new code has no effect on the Google Tag Manager.
Webshop
GA4 collects the same data as Universal, namely the transaction and the products of the transaction. However, the reports within Google's e-commerce section do work differently.
Since GA4 looks and works differently visually, we recommend taking the time to familiarize yourself with it. You can learn more about how to setup GA4 at Google's support center.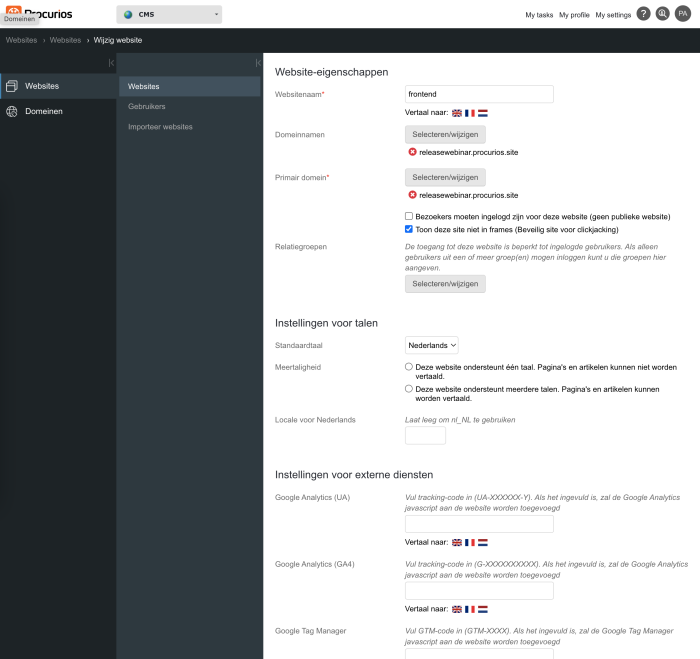 Platform: visual updates
The styling of the header and main menu have received an update. They have a more neutral and modern look and feel, thus better reflecting the entire Platform.