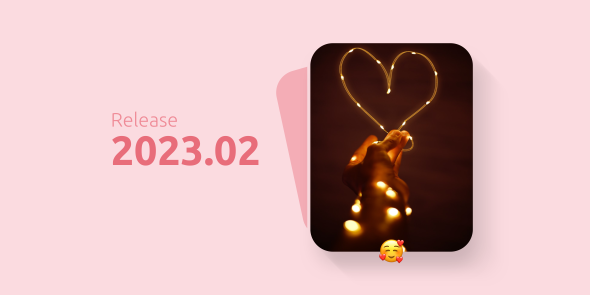 Release 2023.02
In the course of Wednesday February 8th, 2023, all customers on the production version of the Procurios Platform will use release 2023.02. In this blog you can read all about what's new and what has been improved. For more information about the different versions of the platform, please visit the release page.
API: retrieving a relationship list through a collection with an API
All products within our Platform are intergrated with each other. However, sometimes external tools are still needed to achieve your organizational goals. We have therefore been working on becoming an open platform for some time. Via API it is possible to set up a single sign on, update profile data or, for example, read or record contact moments.
With this release, another step has been taken in the goal of being an open platform. You can now also request (in bulk) relationship data via the API. Via a relation list you can indicate which relations and which data may be opened up to the third party in question.
CRM: debtor settings on relation card
On the relation card you could show Debtor settings and change some options as well. We have now completed this so that all debtor settings can be changed directly from the relation card.
Debtor settings are meant to deviate from the standard setup/processing for that specific debtor. For example: all debtors receive the invoice by e-mail (e-invoicing), if an e-mail address is known. For a specific debtor you can disable e-invoicing, so that the invoice can be sent by mail.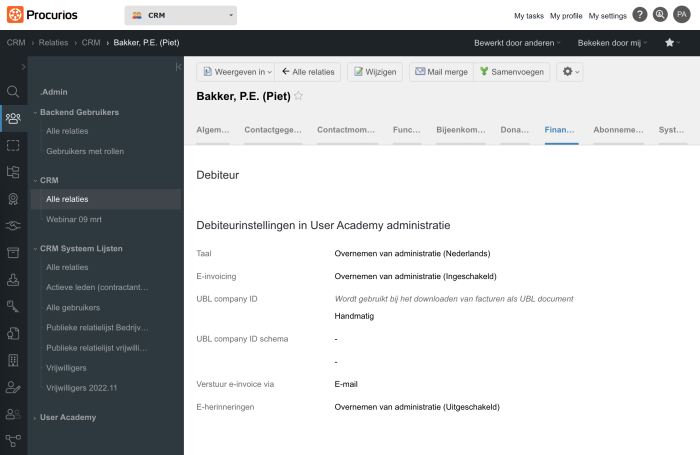 CRM: remove user accounts in bulk
To disable access rights to the platform for a single user, the check mark "This relation can log in" can be unchecked on the relation card. However, sometimes this needs to be done for larger numbers of users.
This is now possible via a Bulk edit on Users with roles, namely with the change option "Remove users". After deleting the users, these relations can no longer log in and it is as if the users never existed. However, the relations in question do continue to exist in CRM.
Finance: Belcotax 2022 supported
As of now, Belcotax is supported for 2022. This makes it possible for our Belgian customers to get started with their fiscal declarations known as 'fiscaal attest' or 'attestation fiscale'.
Mailings: additional options Mailing Template Generator
If you create your own e-mail templates, then the Procurios "Mailing Template Generator" is probably familiar to you.
The Mailing Template Generator has recently been enhanced with several new features.
The logo in the mailing header can now be set to centered, in addition to left-aligned. The text 'Newsletter subject' will then appear below it.
The number of configurable social media logos in the footer of the mailing has been expanded from five to seven.
Furthermore, you can now choose whether the controls of the generator itself are displayed in Dutch or English (this was previously only in English).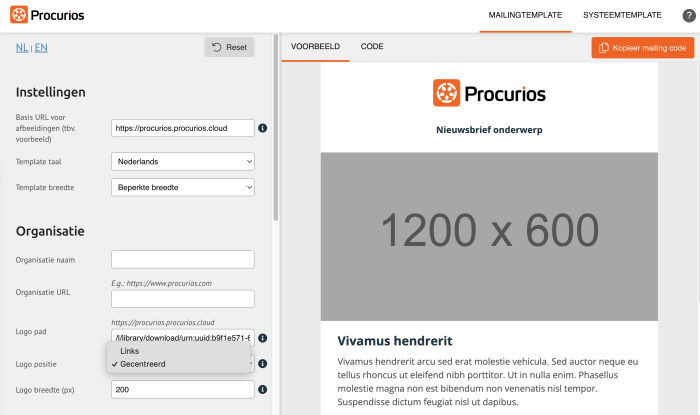 Meeting API: update attendee meeting attendance in CRM
We have made it possible for an external party to update the presence status of a participant.
Meetings & Events: automatically enter company as debtor when registering for a meeting
At some meetings it is desired that tickets are paid by the participant's company.

We have therefore now made it possible to indicate under the Payment options of a Meeting that the Organization/Company of the relation (registrant) becomes the debtor.

In the registration form the organization of a participant is then set as debtor by default. This of course only happens if an organization is actually linked.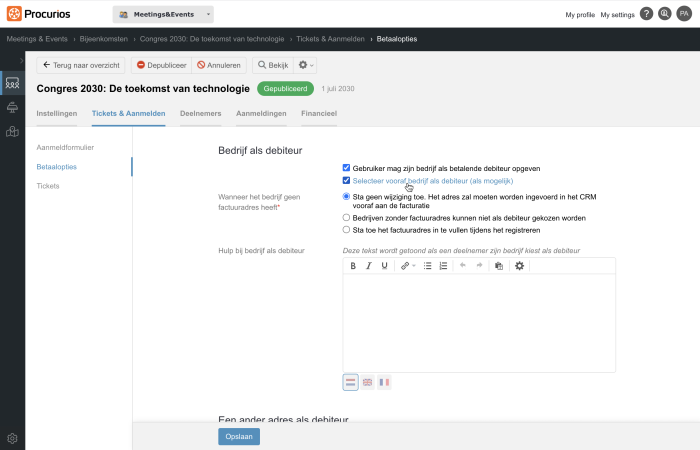 Memberships: download payment invitations as a csv file
In the Procurios Platform, you can download a Membership Payment Invitation in pdf form and send it by mail. You may want to have a shipping house perform these operations if there are large numbers involved. In that case, you would like to provide this information digitally. Therefore, from now on you can also choose to download a zip file containing the document with merge fields and a csv file with the data for these fields.
Note: the terminology surrounding what we will conveniently call "payment requests" can be confusing. We distinguish between three types: a payment invitation, an e-invoice and a reminder.
A payment invitation is a request for payment so that, upon receipt, a subscription is renewed. This is mainly used in Belgium.
An e-invoice is an e-mail requesting payment of a new invoice.
A reminder is a request to pay an invoice whose due date has passed.
Meetings & Events: NPS and CSAT available as evaluation tools
Meetings & Events has the option to have participants fill out an evaluation form after a meeting. Using Evaluation Sets, you can ask them open-ended questions that they can answer with a score from 1 to 5.
For those who want a more formalized method of measuring customer satisfaction, the platform now also supports the calculation of the widely used Net Promoter Score (NPS) and Customer Satisfaction Score (CSAT). This requires setting up answer sets.

Meetings & Events: old registration process no longer available
The old meeting registration process will permanently be unavailable with this release. This change was first announced in August 2021 in the release notes and was mentioned in the Meetings & Events interface. The option has since been discontinued and therefore has no impact on the current setup.
Meetings & Events: 'Salutation' field available for certificates
When issuing a certificate, there is often a logical need to include the name of the certificate holder on it. We have now added that for this naming you can also use the Salutation so that you can determine the composition of fields such as First name, Initials, Insertions and Last name yourself. You are no longer bound to the default composition as shown on the relation card.

The Salutation is an option in the Field Codes that you can select when configuring the Certificate Type. You can find all Salutation variants already configured in the CRM.