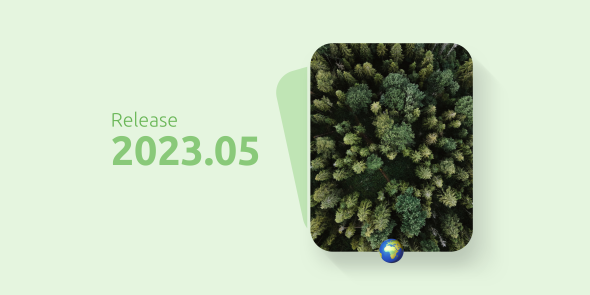 Release 2023.05
In the course of Wednesday May 3rd, 2023, all customers on the production version of the Procurios Platform will use release 2023.05. In this blog you can read all about what's new and what has been improved. For more information about the different versions of the platform, please visit the release page.
Releases move from Wednesday to Tuesday
Since 2018, we have been releasing renewals and enhancements to the Procurios Platform every four weeks on Wednesdays. Very occasionally that includes something that causes a lot of support questions. But on Wednesdays, the staffing of our support department is in fact limited, so all those extra questions can quickly cause waiting times. That could cause a lot of stress and unhappy customers and of course we don't want that!
Therefore, this release of May 3, 2023 will be the last on that will take place on a Wednesday and the releases starting May 30 will take place on Tuesdays. Also, all communications surrounding the releases will be brought forward one day.
CMS: adjust catalog settings per article
Within the additional* module Catalog, it has been made possible to override the default view and settings of a catalog when publishing via an article. As a result, you can now determine settings such as filtering, number of items and/or sorting per page for the same catalog.
*) not activated by default in every environment.
Community: display name selection and contact requests
Display name
In a community, every participant has a "display name": the name under which you post messages and comments. This can be another name than the real name of a participant. Usually this display name was created automatically. Until now, it was limitedly possible for participants to choose their own display name. As of this release, this is a default option. Per community, you can now set whether or not you want participants to set their own display name. This allows you to determine whether participants are required to post under their own name, or whether they can also use a name of their choice.
Contact request
In a community, participants can indicate if they want to make their e-mail address and phone number visible to other participants. If a participant does not, others can make a contact request. If the recipient of that request agrees, the data becomes visible. It is now also made clearer that if you ask someone else for contact information, you are also sharing your own contact information.
CRM: search on webshop orders
To find a specific relation in your CRM, you want to be able to search on all kinds of characteristics. We recently added the option to search for relations who have placed a webshop order. It is possible to specify in which webshop that order was made and when it was made.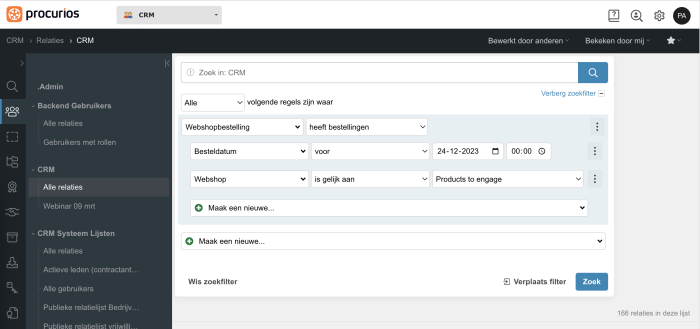 Donations: bulkprocessing for donations
Sometimes you want to change the attribute 'Tax deductible' for a donation. If you have to do that for many donations, it can take a lot of time. Because this was often requested, it is now possible to make this adjustment via bulk processing. It is not yet possible to perform other bulk edits on donations.

Finance: separate reminder template for collectable/not collectable invoice
When selecting a reminder template, all of the options for creating invoices and reminders did not include a failed collection. We have ensured that an appropriate template is available at the right place in the invoicing process for that scenario as well. An additional setting has been added for creating a new invoice template: 'only for collectible' versus 'non-collectionable invoices'.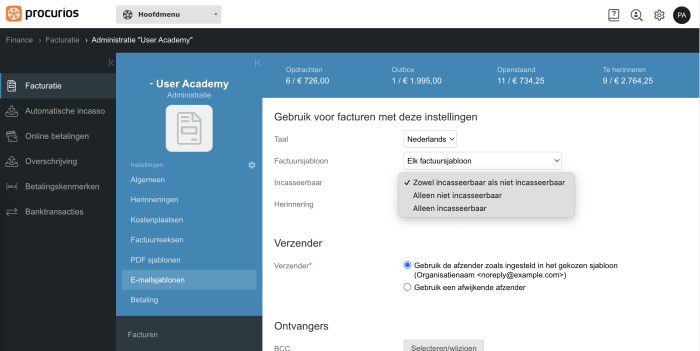 Finance: filter reminders by collectability
Since last November, the reminder process for invoices has been revamped. Reminders can now be issued by invoice instead of by debtor. You can read more about that here.
An invoice is eligible for a reminder immediately after the due date. Even if the invoice is collected in instalments, while most of the collections have yet to take place. Of course, you don't want to send a reminder immediately.
For this reason, we have added a filter option that allows you to filter on invoices that are collectable or not and the amount of instalments collected. With this you filter on the invoices for which you do want to create a reminder and thus exclude the 'collectable in installments'.