Communities App
Everything you and your audience need, always in your pocket!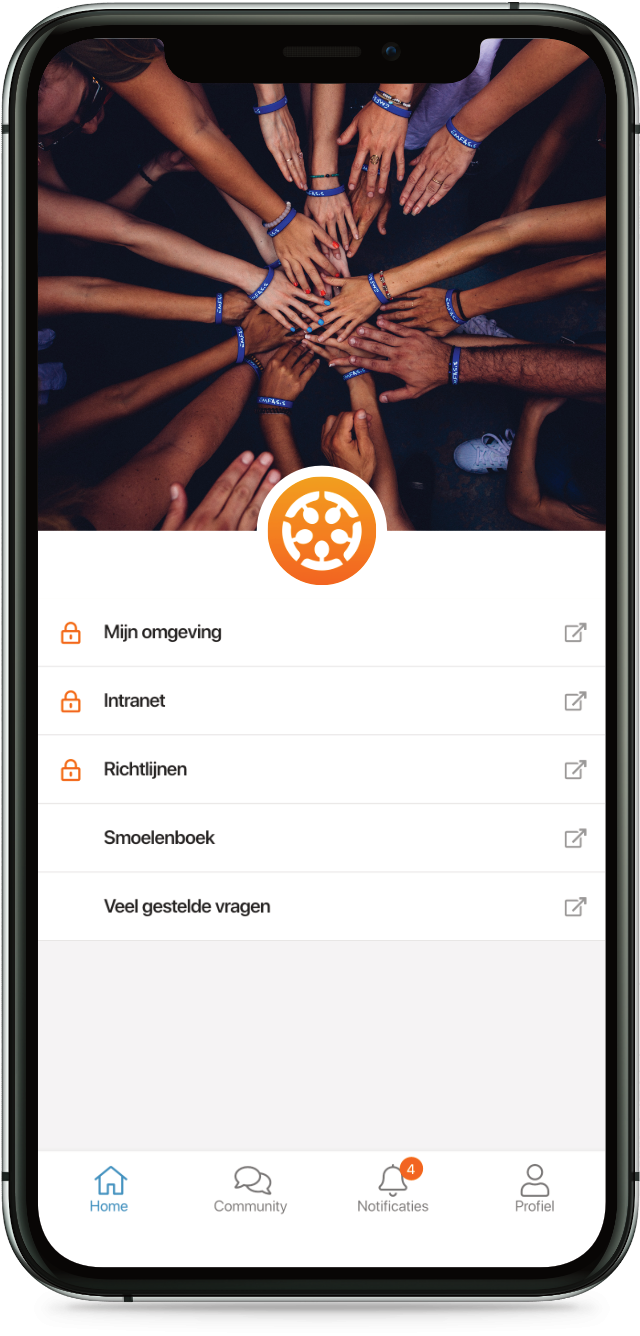 Homescreen
Personalised links to specific (hidden) pages on your platform.
Community
Connect, inform and activate your audience like you've never done before.
Notifications
Your audience knows immediatly that new information is available on the community.
Communities App

:
Your solutions in your back pocket
Notify your users with push notifications
The Communities App offers you the unique possibility to communicate directly with your audience. A signal that a new message has been posted and an overview of unread posts make it easy for your members, volunteers or colleagues.That allows them to be up to date and comment on the latest developments, everywhere, anytime.
Always up to date with push notifications
Notifications in your branding
Linked to your smartwatch
All notifications in your app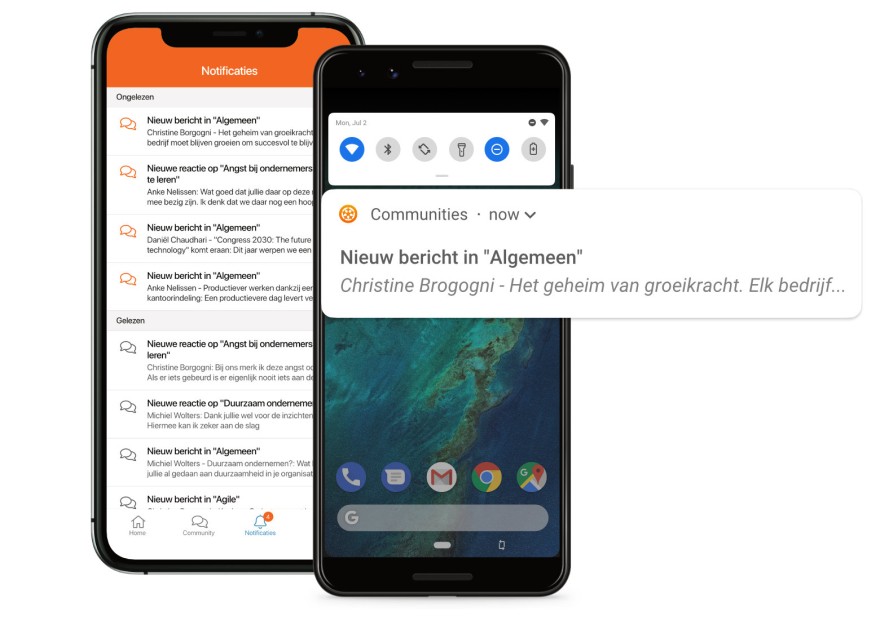 Connect, inform and activate
Bring your audience together in the Community App. Stimulate cooperation and knowledge sharing amongst them. Being important for your audience has never been this easy.
Post, comment, read or like!
Available for iOS and Android
Access your Online Community
Return to the app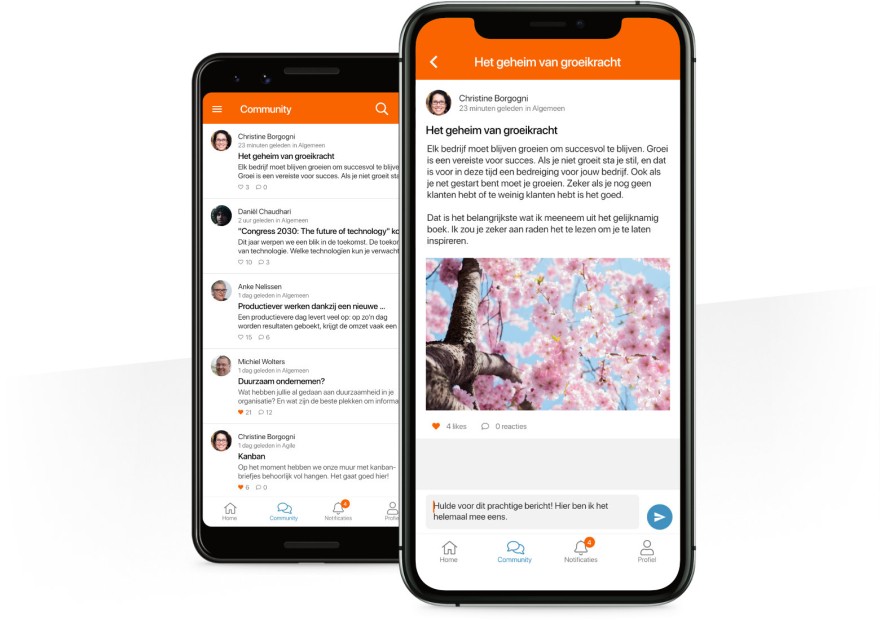 Personalised content in your app
The Communities App offers you a unique possibility to get specific information to a specific part of your audience. Everything is integrated to your Procurios Platform and allows for easy linking and personalisation for your users.
Integrated with other products
App in your branding
Adjustable for all different users
Always return to the app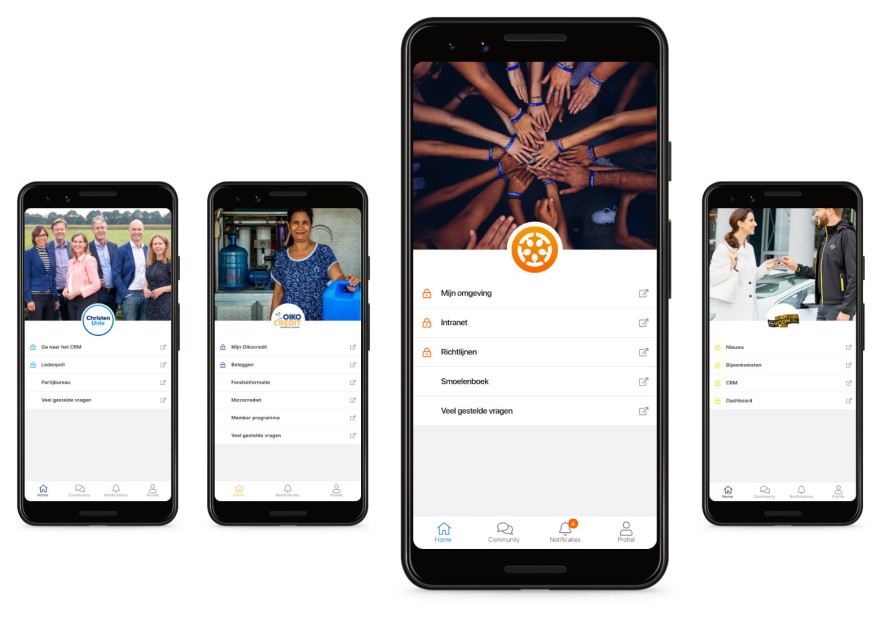 WHITE-LABEL VS. BRANDED

:
Which version of our Communities App suits you the best?
Procurios offers two different versions of the app: a white-label and a branded version. The differences? We'll explain them below!
Feature vergelijking

Features

White-label
Branded

Homescreen

Personalised page on your app

Aanwezig

Aanwezig

Community

Your online community in your back pocket

Aanwezig

Aanwezig

Notifications

Receive push notifications

Aanwezig

Aanwezig

App in the app stores under your own name

Find the app in both the Apple Store and Google Play Store under your own organisation name

Niet aanwezig

Aanwezig

Your logo as app icon

The app icon on your phone is adjustable to your own organisation logo

Niet aanwezig

Aanwezig

Transferable to another developer

Just in case you would want to change in the future ....

Niet aanwezig

Aanwezig

My investment

€ 7.500 one-time-fee, € 150 monthly
€ 15.000 one-time-fee, € 250 monthly
To work!
Use the Communities App together with all the other products of your solutions to build an even greater bond with your audience. Be up to date sooner and collaborate better. Your solution, in the pocket of every user.
Contact us
Stay tuned on more developments in /Members