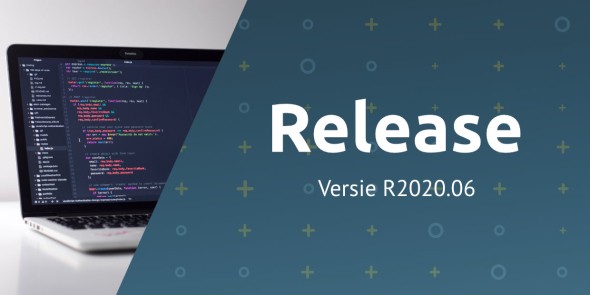 Release 2020.06
As of Wednesday May 27th 2020 all customers of our Procurios Platform will use release 2020.06. In this blog you can find an overview of the changes. Would you like to read more about our release process? Have a look on our release page.
Security & Privacy
Over the past four weeks, we've worked to further improve the security of the Procurios Platform. We took additional measures in securing URLs and we've built an additional detection-mechanism to solve possible vulnerabilities at an earlier stage.
CMS: Making Cookies compliant with sharpened requirements
In a recent verdict in Belgium, it was stated that it is no longer allowed to save data that could possibly be converted to personal data, without asking for permission first. This in addition to the already existing ban on processing or saving personal data without permission. Furthermore the European Court in Germany issued a similar verdict, which could imply that both verdicts serve as a jurisprudence throughout Europe.
Subject to the verdict are a number of exact descriptions of what is and is not permitted. As a result, we have made necessary law compliant changes to our cookie bar and a number of other related items.
Opt-in
All countries are subject to an opt-in policy; no cookies are placed until the user gives their permission.
Cookie-categories
The number of selectable cookie-categories is extended from three to five to give the visitors more control on the sorts of cookies that may be placed:
Essential: Only the cookies that are strictly necessary for the functionality of the website or service. E.g. cookies that save the contents of a shopping cart in a webshop.
Preferences (functional cookies): cookies that remember previously made choices. E.g. language preference or filter settings.
Analytic (performance cookies): cookies aimed to analyse the functioning of a product. Gathered information cannot and may not be used to identify a person.
Tracking: cookies that allow the website publisher to help advertisers to identify and categorise an individual.
External: cookies that are placed on websites by third parties and track the visitors from the first party.
In the Netherlands, just four categories are visible. The 'Analytic' is combined with the 'Essential'. This means that cookies from a completely anonymised Google Analytics configuration will be placed immediately.
Influencing users is prohibited
It is not allowed to influence visitors in their choice, for that reason every available option is presented in the same styling.
Additionally, it was decided that a visitor should have the possibility to choose what cookies can and cannot be placed in detail. The options 'all' or 'none' are not sufficient. Customers for whom we know this is a problem are or will be made aware of this
Communication about cookies
Mentioning which cookies a website uses, is the responsibility of the website owner. But it is our responsibility to offer the correct information. For that very reason, we changed our cookie page in our Help Center: https://support.procurios.com/hc/nl/articles/360010585120-Cookies-op-het-Procurios-Platform
Google Tag Manager & Google Analytics
The way Google Tag Manager (GTM) currently operates will continue for another 6 months. Afterwards, GTM will have to be configured to support the new categories and datastream. In the upcoming period, the corresponding articles will be updated in our Help Center.
CMS: Manage Cookie bar settings
The Procurios Platform offers two versions of the cookie bar:
The fully functional cookie bar: This version is compliant with the requirements as described above. This cookie bar is identifiable by the buttons that offer you the various options to accept or deny cookies.
Cookie bar with implicit consent: This cookie bar works purely as a notification that cookies are used. This does not comply with the European law and is identifiable by its single button option to close the notification.
In most cases, the second version of the cookie bar is active, since it was the standard in the past. Starting from the next release (version 2020.07) the fully functioning version of the cookie bar will be enabled. If you would like to switch to this version prior to that, or if you would like to continue using the cookie bar with implicit consent, you can manage this in the new management page. We made changes to the interface of the website and domain settings. At the bottom of this new interface, you have the option to open the 'Settings', in which you can choose your preferred type of cookie bar. Additionally, you can also alter the texts.
Attention: If you currently use the cookie bar with implicit consent and you have a specific styling on it, this will NOT be transferred when switching to the fully functional version.
Mailings: Salutation available as tokens
From now on, you can use salutations in mailings. For every type of salutation an automatic (general) token will be generated that can be used in every mailing.
Meetings & Events: Export visitors
We've made a change to the way visitor and meeting data can be exported. This allows you to make a combined export from the meeting overview.
The export takes the applied filter on the overview into account, which means that only the filtered visitors are exported. This offers the possibility to export a number of desired columns.
CRM: Using view fields in lists
A so called relation list is used for the view of the contents of a selection (amongst other places). It now possible to use view fields as well.
CMS: Video picker update, without cookies
Our video picker was updated with the option to load YouTube videos without cookies.
Under normal circumstances, YouTube places third party cookies when loading a video. This means that videos can't be shown unless the visitor has given permission. With this change, the cookies are only placed when the visitor chooses to view the video.
Apart from that, several changes were made to the video picker itself:
Only YouTube is currently supported
It is not possible to enable or disable loose accounts
It is not possible to search within your own linked account
Linking an account has been moved to the settings (gear icon at the top left hand corner)
Videos in the linked account are shown directly in the list with videos
A number of visualisations have been added in order to clarify that information is uploading.

Questions?
Do you have any questions about new functionalities or improvement? Contact our Service team. Even when you're not sure what version your platform runs on, feel free to contact us. Our teams will gladly help you.