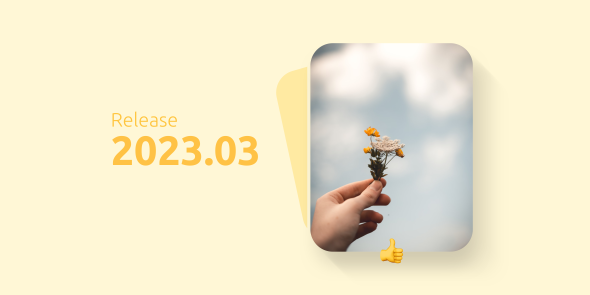 Release 2023.03
In the course of Wednesday March 8th, 2023, all customers on the production version of the Procurios Platform will use release 2023.03. In this blog you can read all about what's new and what has been improved. For more information about the different versions of the platform, please visit the release page.
Communities: customizable explanatory text when reporting inappropriate content
Within a community, a participant has the option to report inappropriate content of a comment. What is meant by 'inappropriate content' within a community and how the follow-up process works is different for each community. This must be clearly explained to the person who wants to report a comment. We have therefore made this explanation text editable.
You can find this option under the general settings of the community under a new tab called 'Customize texts'.
Communities: comments visible on profile
In a community, you could see on someone's profile the posts that person has written. However, there are of course also those who do not write a lot of posts, but comment a lot. Therefore, the comments that someone writes are now also visible on the profile.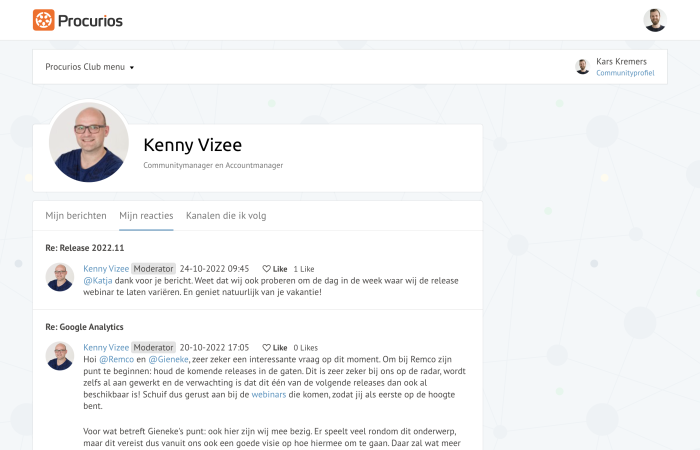 CRM: 'Domain name' field available in registration/profile form
From now on it is possible to automatically link individuals who register to their organization. This feature was previously available to some Procurios users, but is now available in all implementations within the CRM module Organizations & People.
To use this, an organization's domain name must be recorded in the CRM. When an employee registers, he is automatically linked to the organization based on the domain name from the email address.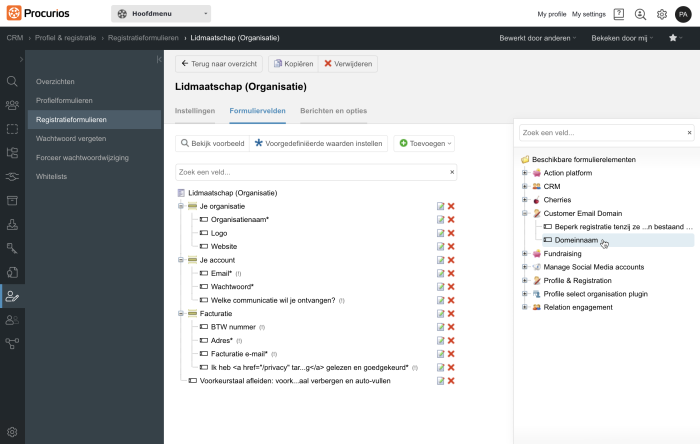 CRM: importing relations, newer style
The interface that lets you import relations has been revamped, partly in response to the wishes of some users. The CRM > Import Relations menu choice now first shows a landing page where you can choose whether to see recent imports, start a new import configuration, load a previously committed configuration, or continue where you left off.
The "mapping" page, which allows you to assign CSV columns to relation fields, has also been expanded and improved. An important improvement is that the conversion capabilities of specific fields (think phone numbers, bank account numbers, address fields, etc.) are now limited to formats relevant to that type of field. As a result, not only do you have to do less searching, but you can no longer accidentally convert a zip code to a date, or extract a house number from a phone number.
An entirely new feature is that when mapping fields, you can now upload images directly. These are then automatically added to the relation card upon import. Furthermore, a test run is now mandatory before you can actually perform an import.
Membership & Organizations: setting rules when creating a new organ
Organs within Memberships & Organizations can be provided with rules, with the purpose that this organ represents a specific target group of an organization. A body without sub-organsmust always have rules to be active.
We now offer the rules you can set for an organ directly when creating a new organ. The rule start date is the same as the organ start date, and rules are optional to add.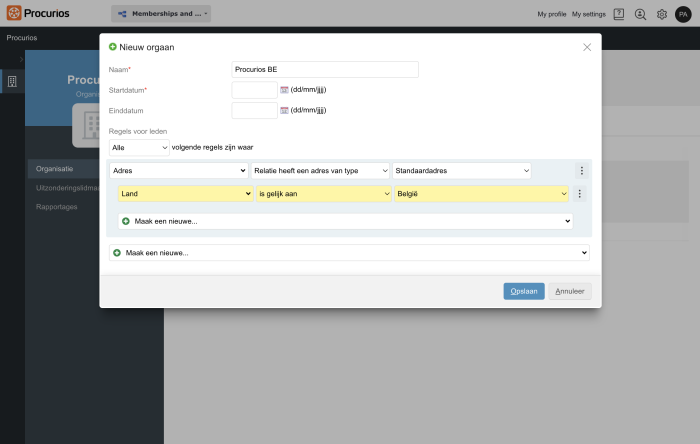 Mailings: alt-text for images
You have probably also experienced that an image in a mailing you have received is not shown. In case that happens, there is a solution where instead of the image, a text describing what can be seen in the image is displayed.
From now on it is in it is possible for each image you use in a Mailing to also specify such an alternative text. This 'Text in case the image cannot be displayed' can be set up by clicking on an image in the editor and writing the desired text in the appropriate field.
Meetings & Events: new tokens for emails
Within Meetings & Events, you can use various field codes in emails to automatically insert information. Now you can also insert the location name, the location, or the location name and location automatically by using drie new field codes.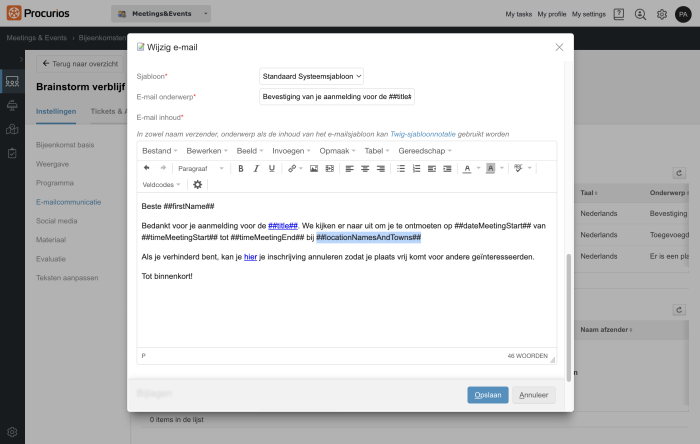 Catalogue: limit length of texts
Within the additional* module Catalog you can add text fields for catalog items. If the text length of these fields is unlimited, it can happen that the entered text no longer fits in the space intended for it in the layout of your site.
Determining the input length of fields is therefore important to properly structure content and ensure layout on a Web site, for example. Therefore, it is now possible to set the maximum length of text fields within Catalog.
If you enter the restriction on already existing fields, this maximum length does not directly affect existing catalog items. Once a catalog item is changed then the restriction will occur and any text that is too long must be shortened.
Without a restriction on the field, the text length remains unlimited.
*) this additional module is not activated by default in every implementation.