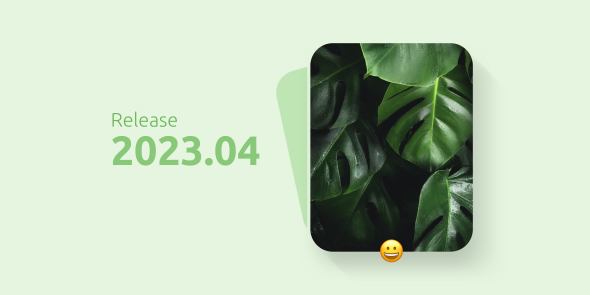 Release 2023.04
In the course of Wednesday April 5th, 2023, all customers on the production version of the Procurios Platform will use release 2023.04. In this blog you can read all about what's new and what has been improved. For more information about the different versions of the platform, please visit the release page.
CRM: customizing certificates
In the CRM you can issue certificates to relations. Until now it was not possible to change created certificates. But there may be situations in which you want to do that, for example if you discover a typo or if you want to change information on the certificate. Therefore, it is now possible to modify certificates.
Please note that if you change the issue date, the expiration date changes with it. With that, the dates when notifications are sent also change.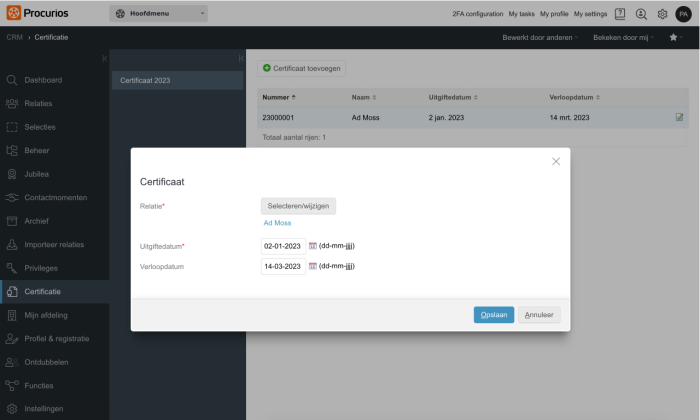 Finance: bank transaction processing more robust
Until this release, it was possible to delete an imported bank transaction file again under certain circumstances. This could have unwanted consequences. We have therefore made the Bank Transactions module within Finance more robust, so that you can no longer make changes that throw you off track.
The following changes have been made:
The processing of transaction lines of collections and disbursements can no longer be modified. These transactions are locked and cannot be reprocessed or reversed.
A transaction file can only be deleted if all transaction lines are set to 'not processed'. Deletion sometimes left 'traces' that you as a user could not see, but which could have unwanted consequences. These traces are now neatly erased, so that a deleted file is really completely deleted.
Adding accounting information to transactions has been improved. You don't see any of this at first glance, but the result is that transactions can be merged better and thus fewer transaction lines need to be processed in accounting.
For now, it is possible to process a transaction twice. For example by linking it to an invoice and processing it as a donation. Although this is never the intention, it is technically difficult to prevent. From now on we will prevent such a transaction from possibly containing incorrect accounting information. We choose to 'pass on' the transaction unprocessed (i.e. as delivered by the bank) to the accounting department. There it can still be decided how to process the transaction. This also serves as a signal that the transaction has not been processed correctly.

In our help center you can read more about the processing of bank transactions.
Platform: problems (to solve)
Problems: few people like them and when they occur we want to solve them as quickly as possible. It is therefore not an attractive word, yet our newest module is called 'Problems'.
Here's the thing. It can happen that unnoticed problems arise from changes users make to the Platform. The system can spot such problems, but it cannot solve them itself. What it can do is alert the user to them. That is what the Problems module does.
The module can signal different types of problems. For example:
The lack of security protocol in e-mail domains used as sending addresses. Your system emails or newsletters could unintentionally end up in the recipient's spam more easily as a result.
There is a link on your website that points to a page that does not (or no longer) exist.
No one can register via a form in the CMS because the underlying design of the form has been removed.
The module is available to Superusers (and administrators with similar privileges). When new problems arise, it is shown with an attention bullet on the (new) radar icon in the upper right corner of the screen. If you click through on that you will also see the severity of the problem in an overview of ongoing problems. Further clicking through gives the substantive information and guide to the solution.
If acute (process-blocking) problems occur, a red button also becomes visible at the bottom right of the screen, throughout the platform. That button does not disappear again until the problem is resolved.