Release 2023.08
In the course of Tuesday July 25th, 2023, all customers on the production version of the Procurios Platform will use release 2023.08. In this blog you can read all about what's new and what has been improved. For more information about the different versions of the platform, please visit the release page.
CMS: maximum age for web blog posts with the same label
Within the CMS you can use related weblog posts on the detail page of a blog post through the article type 'Weblog posts with the same labels'. It has been added that you can now also set the maximum age of these related weblog posts for this article type.
CRM: contact moment when certificate expires
To inform a certificate holder of an expiring certificate, you could already send notifications. These notifications are now automatically added to the certificate holder as a contact moment so you can see that the certificate holder has been notified.
CRM: option to send e-mail with new job assignments
In functions, it is possible to set that when a new function assignment is added, an e-mail is automatically sent to the officer. Since a job assignment is sometimes entered retroactively, sending this e-mail does not always make sense. Therefore, you can now - if the job assignment starts in the past - choose whether you want to send this e-mail for the job assignment.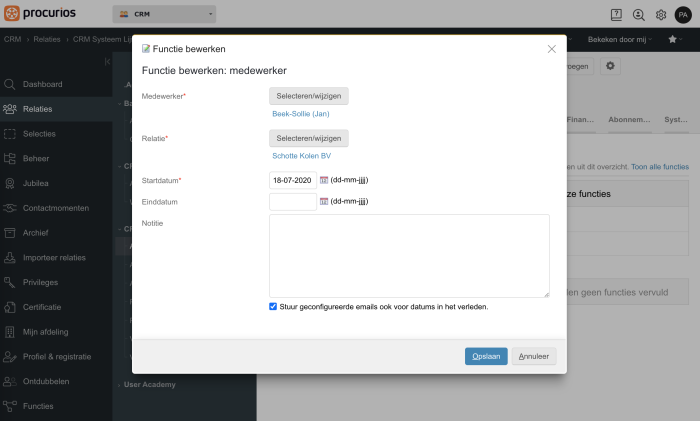 Donations: state registry number added to tax certificates
In the Belgian fundraising module it is now possible to add a state registration number to a tax certificate. This is a free field of type "Belgian National Register Number" and is optional to set in the settings in the fundraising module.
It is an optional field, so it is not taken into account when checking that all data is valid before the sheet can be created.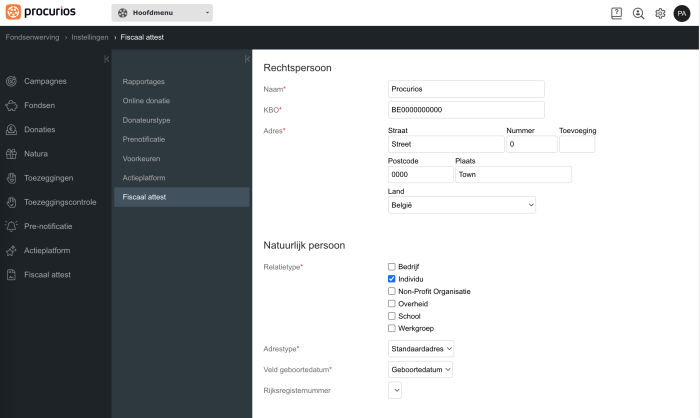 Finance: bank transactions added to financial reporting
Bank transactions are now also part of the financial report downloadable for an administration. To add bank transactions to the report, a general ledger account must be entered for the bank accounts. In the monthly memorandum overview these can now also be seen.

Finance: improved suggestions in bank transaction processing of donations
When processing manual transfers, suggestions for the fund and action of the donation were already made based on the information contained in the bank transaction. It has now been added that if the relationship found has a current pledge that matches the transfer, the data from that pledge will be used to suggest fund and action.
Memberships: choose when the initial term of a subscription is renewed for an entire term
When creating a new subscription type with a fixed end date, you already had the choice of automatically adding an entire second period to the first period. If someone takes out an annual subscription of that type on May 1, that subscription runs - and must also be paid for - for the period May 1 to January 1, plus January 1 to the next January 1. From now on, when creating a subscription type, you can choose when that second period will and will not be added. You can then set, for example, that only people who become subscribers after July 1 will automatically have the second period added.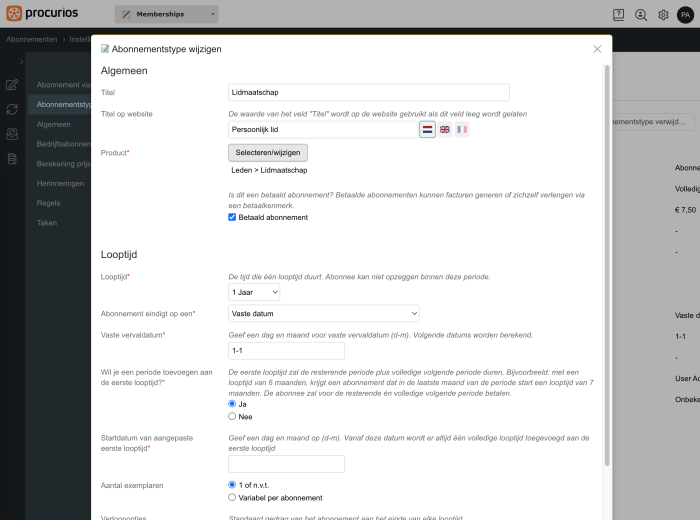 Meetings & Events: own tab names at meetings
When you add a meeting, the frontend shows a number of tabs, such as "program," "location," etc. The titles of these tabs can now be changed to self-selected names.