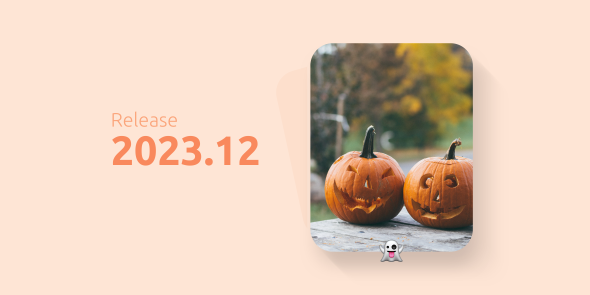 Release 2023.12
In the course of Tuesday November 14th, 2023, all customers on the production version of the Procurios Platform will use release 2023.12. In this blog you can read all about what's new and what has been improved. For more information about the different versions of the platform, please visit the release page.
CMS: Share pages better via social media
For sharing pages on social media, it is now possible to define in the CMS which title, image and description should be shown with the post. For blog posts and meetings, this was already possible for some time. In order not to have to specify individual values for each page, the description and image can also be set at the category level in the CMS.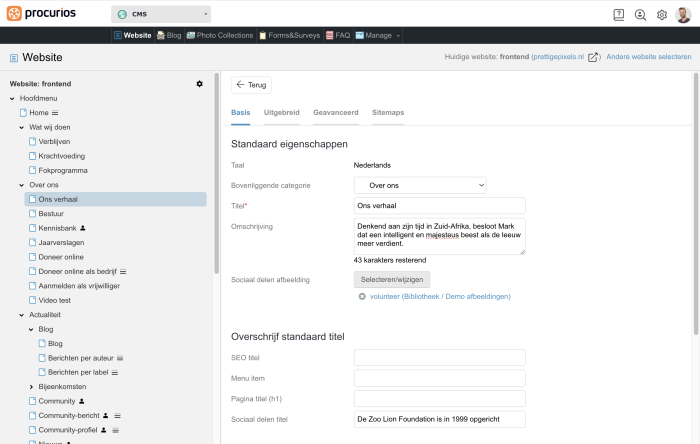 CMS: Website design settings refresh
Design settings allow you to manage colors, dimensions, text and other design options of your website. The options for customizing the appearance of your website have expanded over time and, as a result, have become a bit cluttered. We have grouped and described the various options more clearly. If you prefer to decide the order of the categories yourself, you can do that too.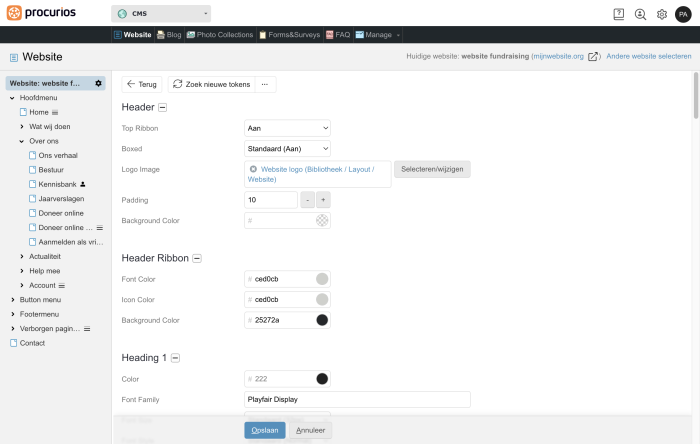 Mailings: Export mailing data extended
To make a good analysis about the performance of sent mailings, it is useful to combine data from multiple mailings. It is now possible to export data (e.g. recipients and clicks) from multiple mailings in one go. The exports will remain available for several weeks via Mailings - Export.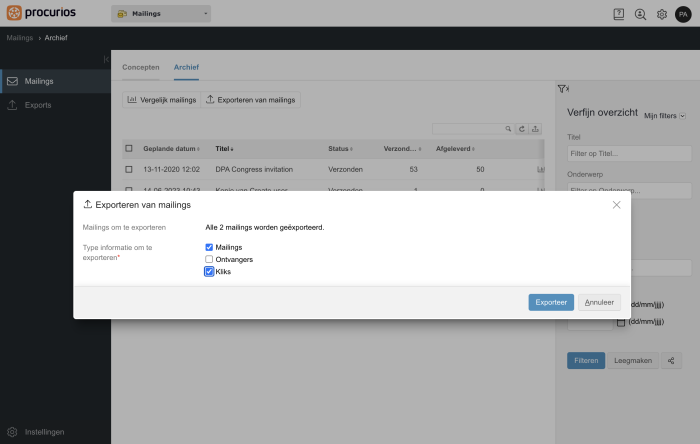 Meetings & Events: order of questions in evaluations customizable
The Procurios Platform allows you to offer participants an evaluation form after meetings or activities. You can now determine the order of the questions. Questions related to the speaker or the activity itself will remain together.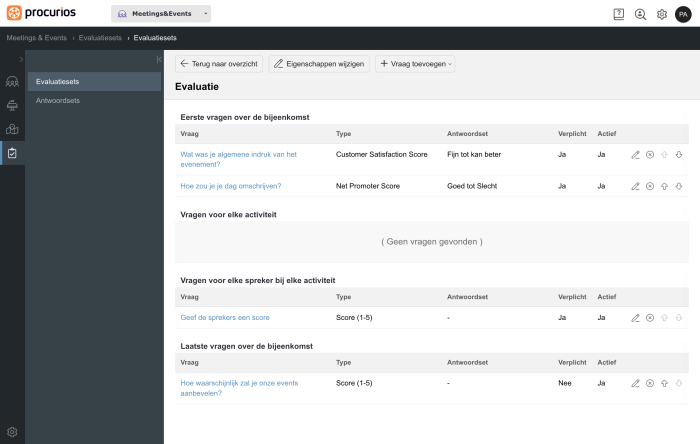 Platform: Goodbye Twitter, hello 𝕏
Twitter changed its name to 𝕏 some time ago. However, a new share icon remained out. Recently 𝕏 updated the documentation on this and we added the new share icon within the Procurios Platform as well.
Meetings & Events: Link with the UiTdatabank (UiTinVlaanderen.be)
The UiTdatabank contains the largest leisure agenda of Flanders and Brussels. It is an attractive and accessible website to highlight the events and gatherings of your organization. From the Procurios Platform you can now submit your activities to the leisure agenda via a programmable interface.
If you want to send activities to the UiTdatabank, your data in our platform must meet a number of requirements to be able to place the meeting in the UiTdtabank. Are you interested in a link to post your activities or would you like to know if your data is already compliant? Then contact a consultant.